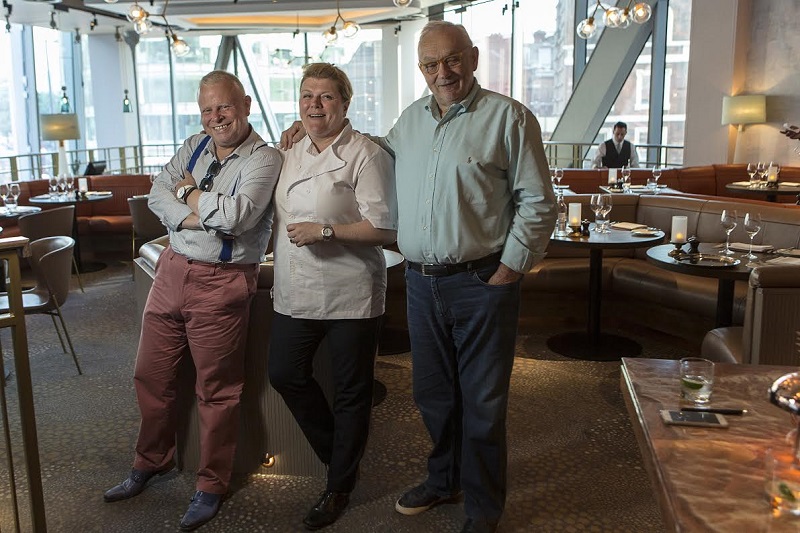 On Monday 19th June, Executive Chef of Aster, Helena Puolakka, welcomed godfather of the restaurant industry, Pierre Koffmann and Bloomberg's chief food critic, Richard Vines to her Nordic-French restaurant in London's Victoria.  The first of an ongoing series, guests enjoyed a special five-course tasting menu created by Helena Puolakka in collaboration with Pierre Koffmann.  They were also treated to a lively interview of Pierre by industry stalwart Richard Vines, which provided a fascinating insight in to the mind of one of this country's most loved chef legends.
The menu executed by Helena and her team beautifully show-cased the collective skill and influences of both Pierre and his former protégé Helena, whose Nordic-French cuisine has been winning critical acclaim at Aster.  Guests were delighted by dishes such as confit wild salmon, with pickled cucumber, and crisp kale and of course Pierre Koffmann's legendary Pig's Trotters which were served with buttery pomme mousseline and port wine sauce to a rapturous room.
Attended by a great mix of fans of Pierre Koffmann, industry figureheads, restaurateurs, media and influencers and London food-lovers alike, the event was a celebration of the collaborative spirit of the hospitality industry as well as the creativity of UK chefs, while raising money for Hospitality Action, the trade charity offering a crucial lifeline to people of all ages, working and retired, from the hospitality industry.  Helena comments: "our first Chefs Series event was an amazing evening, it was a delight to welcome Pierre Koffmann into the kitchen at Aster and spend time with the guests. I am excited to work with more of the UK's top chefs in events to come and raise even more money for Hospitality Action."
With a stellar line-up of up-coming collaborators to be announced in due course, Pierre and Helena set the bar high for one of London's most exciting collaboration series to date, which will welcome a different guest chef to the restaurant on a bi-monthly basis.