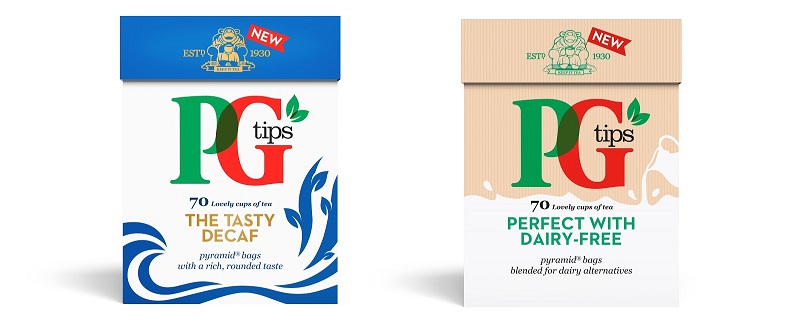 PG tips has announced the launch of two new brews: The Tasty Decaf and Perfect with Dairy Free, which will become available in all major retailers from the 5th of March at the price of £2.60 for 70 teabags boxes.
These two solutions come after a huge customer demand for Decaf tea that tastes as great as the original one. In addition, finding a tea that mixes well with dairy free alternatives was also something PG had to take care of. The PG Master Tea Blender, Joyce, tasted teas from over 20 origins in hundreds of different combinations until she found the two perfect teas.
The Tasty Decaf waves goodbye to the weak, 'wishy-washy' decaf tea, and welcomes the rich, fresh, and rounded taste of a regular cuppa, but without the caffeine. Its natural flavour is inspired by the tea gardens in Kericho, Kenya.
The Perfect with Dairy Free allows you to use any alternative you prefer, whether it's soya, almond, coconut, hazelnut or anything else, because it complements it and creates a great tasting cuppa.
The nation's favourite tea brand has taken care of its customers once again and listened to their desires for a perfect cuppa. Both The Tasty Decaf and Perfect with Dairy Free will be stocked in Sainsbury's at the price of £2.60 per box.
PG tips has been enjoyed by the people of Britain since the 1930s and since then, the team of experts has developed a terrific range of teas, from Decaf to Premium Range, to Fruit, Herbal, and Green teas.