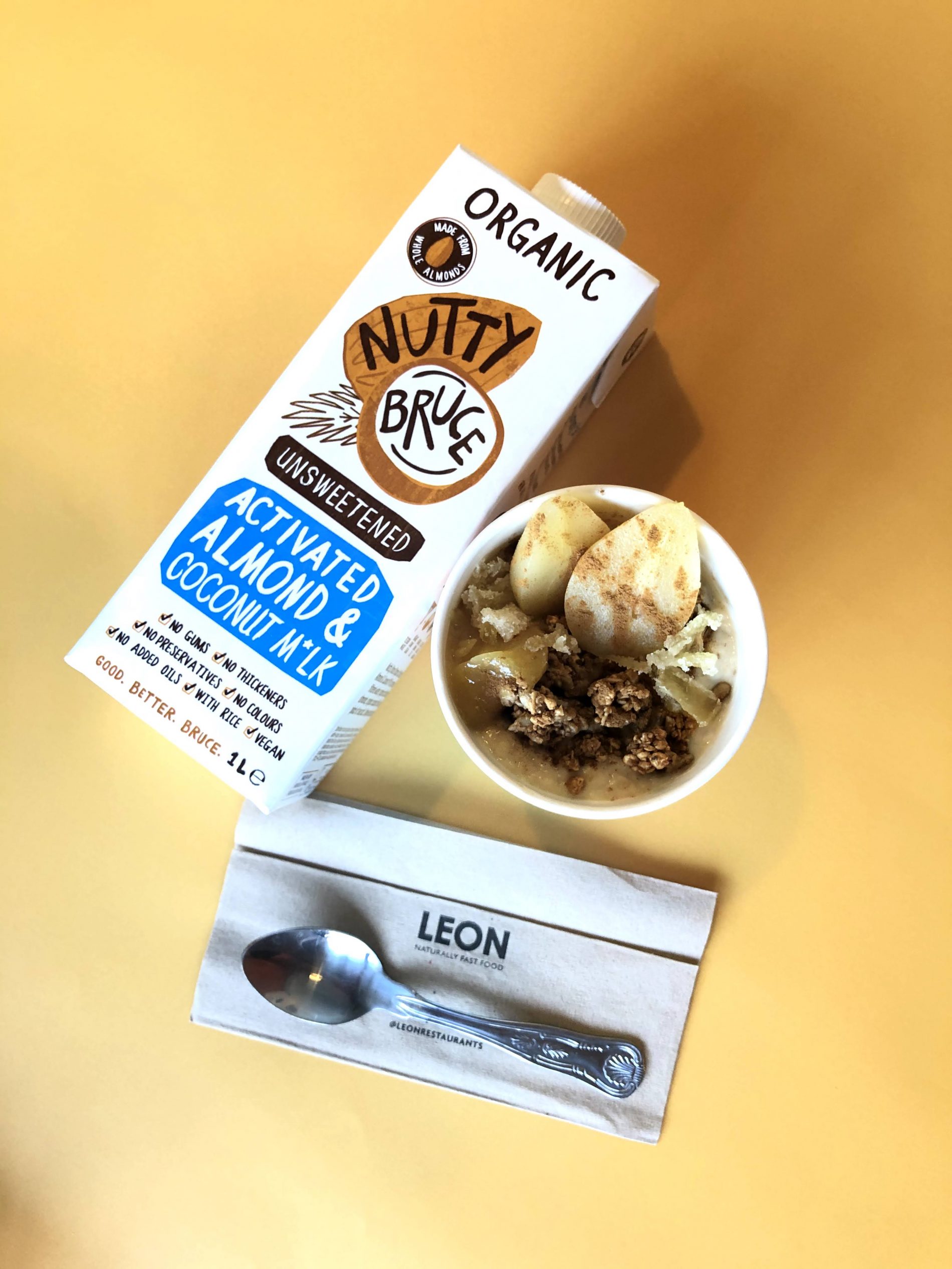 Nutty Bruce, the plant-based brand that gives people a short-cut to wellness by creating nutritious, delicious and convenient products, has partnered with LEON to launch the first porridge that's made with activated almond m*lk on the UK high street.
Available from LEON restaurants from 8th October, customers will be able to purchase two activated plant-based porridges that are made with Nutty Bruce Activated Almond & Coconut M*lk: a new Pear & Ginger Seasonal Porridge (RRP: £2.95) and the Ruby Red Porridge (RRP:£2.95).
Activated almonds are nuts that have been soaked in fresh filtered water for 12 hours to start the germination process. Germination reduces the phytic acid in almonds and this increases the absorption of the nutrients when consumed – in this case, in porridge.
The LEON Pear & Ginger Seasonal Porridge is created with slow-cooked organic Scottish porridge oats that are cooked with Nutty Bruce Activated Almond & Coconut M*lk and are topped with poached baby pears, ginger curd, crystalised ginger and a granola crumble, which promises to help people feel satiated for a little longer in the morning.
The LEON Ruby Red Porridge is made with Nutty Bruce Activated Almond & Coconut M*lk and is topped with a Ruby Red compote that is made with a natural prebiotic fibre made from chicory root.
Nutty Bruce's smooth Activated Almond & Coconut M*lk is made with filtered water, organic coconut, organic brown rice, activated organic almonds and sea salt. Nuttin' more, nuttin' less.
Unlike other plant milks, the Bruce range contains absolutely no nasties. That means no thickeners, gums, preservatives, colours, stabilisers, nut pastes or added oils. Oils and gums are traditionally added to give plant milks body, but the Bruce range of real, organic ingredients ensures a creamy, thick and delicious m*lk, every time, without the need for anything artificial.
To activate its almonds, Nutty Bruce soaks them for 12 hours in fresh filtered water to kick-start the germination process. The activated almonds are then carefully dried and blended with filtered water and simple, organic ingredients.
Raw almonds contain phytochemicals that can prevent the body from extracting the nuts' full nutritional benefits during digestion. It is believed that activating the almonds, however, can denature these phytochemicals, which may make them gentler on the gut and increase the bioavailability of their nutrients.