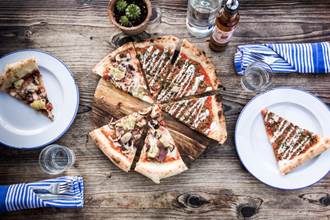 An artisanal pizzeria is due to open this month in Clapham, London, following its success in Winchester. Pi was born in 2014 after first time restaurateur Rosie Whaley came back from a working holiday at a Florence pizzeria with a simple idea and a big dream. Now, after three successful years in Winchester, Pi is coming to South London in an 85 cover restaurant on Battersea Rise.
The top secret pizza dough recipe has been developed and perfected by a team of Italian chefs and it involves a 72 hour fermentation process that results into a light and lean base with airy crispy crusts. What makes Pi's pizzas even more special is that it only uses the finest quality cheeses, meats, and vegetables, sourced from Italy or locally.
Pizzas are available wither as a standard size with the option for half and half, or as a 20 inch base to share with your friends. Some of the topping options include: Hampshire pork sausage, sliced desiree potatoes, garlic, thyme, caper crumb and nocellara olives; Lebanese spiced ground lamb with Turkish yogurt and fresh parsley; Old Winchester cauliflower cheese, chorizo, and spinach; and Wild boar salami, red chilli, and piquillo peppers. All pizzas can be upgraded with whole balls of Buffalo Mozzarella or Burrata Pugliese.
There are also sides available (cauliflower and Old Winchester arancini, garlic and thyme flatbread with olive tapenade, truffle ham with Pecorino) and a wine list that offers a wide selection of organic reds and whites. With a 25 seat bar area, PI will also welcome guests for after dinner drinks with its impressive cocktail list.
"It's been three whirlwind years since we brought Pi to Winchester and I'm so excited to be opening a second site. Londoners have an insatiable passion for pizza and I hope we can bring a slice of something special to the table," commented Rosie on the news of the opening.