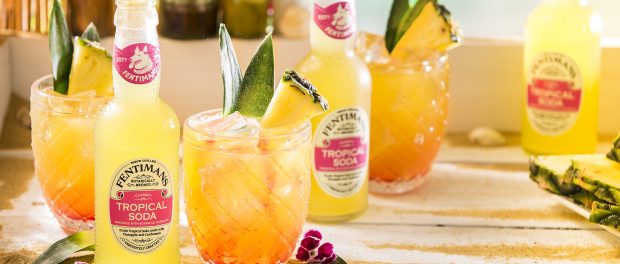 Fentimans, the botanically brewed drinks maker, is adding a fun new mixer to its award winning range.
Tropical Soda, made specifically for the rum market was developed by the Fentimans Botanical Collective, a group of top bartenders from leading cocktail bars across Europe.

The radiantly sweet, tropical pineapple flavour is perfectly balanced with a subtle spicy, savoury cardamom note. The result is a dynamic drink with a refreshing taste, best served as the 'Tropical Sailor', Sailor Jerry, Fentimans Tropical Soda and a squeeze of lime. The new pineapple mixer is a fresh approach to a category that is bursting with ginger and cola derivatives.

According to CGA data the rum category has grown by 37% in the last 4 years, driven by premium top-line golden and dark rum variants. The popularity of rum has increased amongst millennials with 80% now enjoying the spirit on a regular basis.
The Botanical Collective: Joe Hall (Satan's Whiskers, London), Jack Rooney (Panda's & Sons, Edinburgh), Joe Lewis-White (Two Schmucks, Barcelona), Sara Moudoulaud-Lecoyer (Divine, Paris) and Jack Riley (Present Company, Liverpool) devised the flavour profiles of Tropical Soda together with the Fentimans flavour team.
Tropical Soda joins Fentimans great range of premium rum mixers including Curiosity Cola, Ginger Beer and Ginger Ale. Joe Hall, bar manager at Satan's Whiskers comments:
"Working with Fentimans to create Tropical Soda has been an incredibly rewarding experience. Combining our varied on-trade acumen with their clear mastery of craft has resulted in an objectively delicious product that, we feel, fills a real gap in the market! Whether in mixers or cocktails, I'm now excited to sit back and observe how it flourishes within the industry."
Launched to the trade at Imbibe Live on 1st July Fentimans teamed up with London's top tiki bar, Laki Kane and the spiced Caribbean rum, Sailor Jerry to host a Tropical After Party in Islington. Tropical Soda will be available at Laki Kane from July and to order from September in 125ml glass bottles.
For samples please email: [email protected]