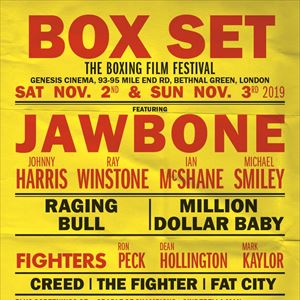 No sport has created more impact on the big screen than boxing, from Raging Bull to Rocky; these films are iconic pieces of cinema that everyone should see.  The depiction of the 'sweet science' transcends the sport, to articulate stories of poverty, adversity and struggle – all set within the microcosm of the square circle.
Box Set – the boxing film festival – will be a two day celebration of the art of the boxing film, with some of the sport's biggest stars joining actors, directors and filmmakers on the Q&A panels.
Ray Winstone may be in the headlines for landing a role in upcoming Marvel Universe movie, Black Widow, but it's unlikely the Hackney born actor is going to go all 'Hollywood' on us. He's making time in his busy schedule to support Box Set, taking place a stone's throw from his birthplace in London's East End.
Winstone, who trained at the famous Repton boxing club as a youth and won 80 out of 88 ABA fights said: "I've been connected with boxing since the day I was born. That's just the way it is and I'm very proud and thankful of that."  It is this very real and authentic passion for the sport that shines through in his performance in the 2017 Brit flick, Jawbone.
BBC film critic Mark Kermode said in his review of the film; "a single look from Ray Winstone tells us almost everything we need to know about the back story of this character. It literally tells us so much…"
The BAFTA nominated and critically acclaimed film is Box Set's 'A' side movie. Like Rocky (written by Sly) it was penned by its star, Johnny Harris, who portrays the protagonist, Jimmy. He said: "I'm honoured that Jawbone will be headlining the Box Set Film Festival."
Whilst not autobiographical, the film contains strong parallels with Johnny's life, and was made in dedication to his former trainer; the late Mick Carney. Harris trained at Fitzroy Lodge from 9-years-old, going onto win the national ABA title at flyweight at 16.  He said: "I tried to present almost a thank-you note, almost a love letter to that period of my life."
Johnny took the role so seriously, he trained with professional boxing coach Shane McGuigan for two years before filming commenced. In a testament to the small world of boxing, Barry McGuigan trained Daniel Day Lewis for his role in 1997's The Boxer, also showing at Box Set.
With all this boxing expertise amongst the heavyweight ensemble cast, it's little wonder that the fight scenes rival the biggest budget Hollywood boxing movies. As Mark Kermode explained of the cinematography: "it puts you in the ring…..it puts you on the receiving end of punches….it puts you right in the middle of it."
Jawbone screens on Saturday 2nd Nov at 17.30 and is followed by a Q&A hosted by Steve 'big daddy' Bunce with stars Ray Winstone, Johnny Harris, Michael Smiley and producer Mike Elliott. Tickets are priced from just £15. "
Martin Scorsese's masterpiece, Raging Bull, is also showing and frankly anyone who calls themselves a film fan should see Robert DeNiro's extraordinary performance as Jake Lamotta battling inner turmoil at the cinema.
Matt Hodgson's I am Duran receives its U.K premiere, having being released straight to download.  The 2019 documentary features 'Marvelous' Marvin Hagler, 'Iron' Mike Tyson, Robert DeNiro and Sylvester Stallone.
Other films on the undercard include: Million Dollar Baby, Fat City, Cinderella Man, The Fighter, Creed, The Boxer and Southpaw.  Fully endorsed by the WBC and the British Board of Boxing Control – the event has really caught the imagination of the sport's luminaries.
Away from scripted drama, there are some stellar documentaries being shown including I am Duran, Manny, Cradle of Champions and Fighters.
We are also proud to announce our all-female Q&A at the Million Dollar Baby screening, where we will explore issues around parity in the sport, fighting for the right to fight and making it in an almost exclusively man's world. Current world champ Hannah Rankin will be Jane Couch MBE and  Melanie Takimoglu Melt PR founder who works alongside some of the biggest names in boxing.
More information, including the full schedule can be found at www.boxsetfestival.com and tickets can also be bought from See tickets from just £10.