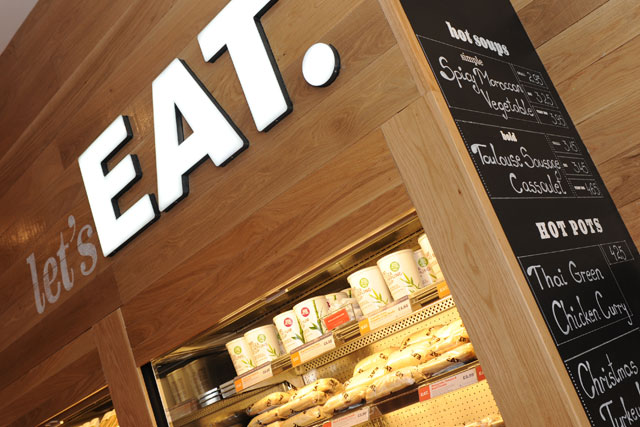 EAT., the fresh food-to-go brand is entering the next phase of its expansion programme with the launch of a new concept store in Finsbury Pavement on 11th May.
Afroditi Krassa, the renowned architect behind Heston's Perfectionist Café at Heathrow Terminal 2 and Dishoom, has been enlisted to showcase EAT.'s passion for cooking great tasting seasonal food, every day. Unlike other stores, all the cooking and serving will be visible, so customers can expect to smell the baguettes being baked, see the soups being stirred and garnished and the coffee being ground all from the open kitchen and service area.
This new design will be the platform for the next phase of store expansion, with stores in Ealing and Chichester all currently being built and planned to be opened in the next 6-8 weeks, taking the total store estate to 120. Chichester will see the extension of the new concept into a market town format, gearing the menu, service and environment around a relaxing place to meet and spend time for great seasonal food and hand crafted coffee.
Later in the year EAT. will open its largest ever store within Liverpool Street Station. At 2,840 square feet it will adopt the new format to serve the 122m passengers passing through the UK's busiest station each year.
The new openings will coincide with the Launch of EAT.'s Summer menu which features new Chipotle Chicken and Avocado salads, made without gluten and only 319 calories per serving, and an expanded vegan offering including a Thai Green and Grain salad, also made without gluten and only 326 calories per serving.
Brand Director, Sarah Doyle comments "All of EAT.'s food is made fresh by us each day, and from Wednesday customers at the Finsbury Pavement store will be able to see this for themselves. EAT. will be expanding beyond London over the next 12 months, and the new store format is a key feature of the roll out. We are already well known for our healthy hot food, but we're seeing increasing demand for our fresh offering, with salads showing a 4% like for like growth in the year to April. Everything we make uses the best seasonal ingredients, whether it's a soup, a hot pot, or a salad. For our salad dressings, for example, we're using British cold pressed rapeseed oil, used for its nutty flavour and strong health credentials. Customers value this commitment to quality, taste and health."
About EAT.
Founded in 1996 by Niall and Faith MacArthur from one shop in Villiers Street, London, EAT. is a leading business in the £3 billion specialist food and coffee "to go" market. With 118 stores across the UK, EAT. sells a wide range of soups, salads, paninis, sandwiches, baked goods and coffee, all freshly prepared by EAT. each day. They have won many awards for their extensive hot and cold menu, from 'Great Taste' awards for their coffee, Texan Chilli Hot Pot and Beef Rendang soup, to 'Best Sandwich Retailer' at the MIDAS (Menu Innovation and Development) awards this year.