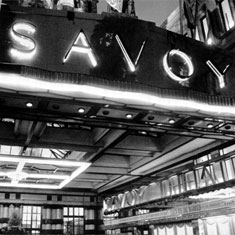 In celebration of Her Majesty The Queen's 90th Birthday celebrations, The Savoy will be launching A Royal Afternoon Tea this June. In collaboration with The Royal Chef, Darren McGrady, The Savoy will present a menu that's fit for a Queen and a true representation of what our reigning monarch enjoys when taking tea at the Palace.
Chef Darren McGrady was personal chef to Queen Elizabeth II, Diana, Princess of Wales, and Princes' William and Harry for 15 years, and has cooked for many US and visiting dignitaries to Buckingham Palace. But it all began here at The Savoy as before his time in the Royal Kitchens, Chef McGrady trained at The Savoy, achieving the position of Chef-de-Partie Saucier. The Savoy is delighted to welcome Chef McGrady back to consult on this special Afternoon Tea menu in collaboration with The Savoy's Executive Chef, Holger Jackisch.
To be served in the beautiful Thames Foyer, The Savoy's Royal Afternoon Tea will feature some of Her Majesty's favourites, which remain on the Royal tea menu today, such as the Jam Pennies Queen Elizabeth and Princess Margaret loved as young children; Chocolate birthday cake, the recipe of which dates back to Queen Victoria's chef; and Her Majesty's absolute favourite, the Chocolate biscuit cake chosen by Prince William for his Groom's cake.
The Savoy's Royal Afternoon Tea will be available from 9th June 2016 until the end of the month and is priced from £52.50 per person. Chef Darren McGrady will make a special guest appearance during sittings of Afternoon Tea on Saturday 11 June to meet with guests and answer any questions about his time at the Palace.
The Savoy's Royal Afternoon Tea Menu
Smoked Scottish salmon gravedlax with suèdoise sauce
Sage Derby and tomato
Tarragon chicken mayonnaise bridge rolls
Roast beef with golden beetroot and horseradish crème fraîche
Potted shrimp with warm Melba toast
Jam pennies

Warm scones with clotted cream and fraise des bois compote

Chocolate biscuit cake
Vanilla bean shortbread
Raspberry tartlets with lemon cheese
Crathie crunch
Caramel banana cake

Battenberg cake
Chocolate birthday cake
A Royal Stay at The Savoy
The Savoy also welcomes guests for A Royal Stay during the month of June, which includes
accommodation in a Deluxe Double and above, Royal Breakfast for two in-room (Lobster
Eggs Benedict on Green Asparagus), and two Windsor in Purple cocktails, specially created
by the American Bar to commemorate the royal birthday, in the American Bar or served inroom.
Priced from £600 inc VAT and available for the month of June.