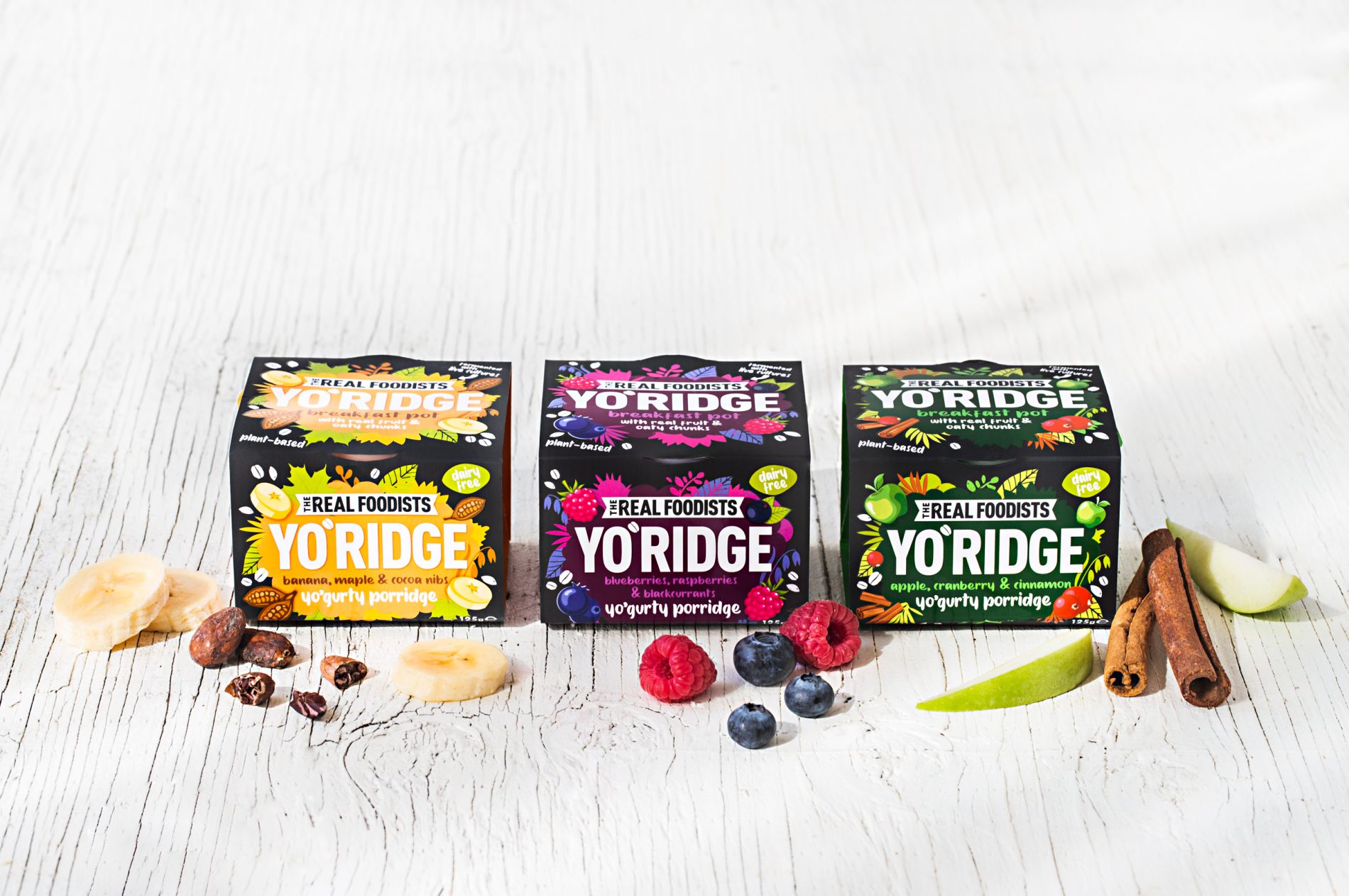 The Real Foodists is a clean-label, plant-based food-innovation start-up brand that harnesses the power of natural ingredients and a proprietary production process to produce delicious and innovative plant-based products that push the boundaries of health and taste.
The brand will enter the British market with Yo'ridge, a range of delicious ready-to-eat chilled 'yo'gurty' porridge, clean-label breakfast pots packed with bio-live cultures and made from an innovative blend of oats, lentils, sesame and coconut and combined with a touch of pure maple syrup and an abundance of fruit. The first product of its kind in the UK, if yogurt and porridge had a plant-based love child, it would be Yo'ridge. 
The award-winning brand is launching in the UK after securing $2.5 million of investment from some of the biggest players in the industry, Müller and Bel Group, to fund its global expansion. 
CEO Steve Grun says "The UK is the perfect market for The Real Foodists. Our innovative and completely natural, plant-based food and drink will meet growing demand for products of this nature in Britain and we are confident that our first launch, our Yo'ridge range, will be very popular in the country.
"Yo'ridge is the first product of its kind in the UK. A plant-based range of 'yo'gurty' porridge on-the-go pots that are filled with bio-live cultures and will provide Brits with a completely unique option for breakfast."
Yo'ridge is set to revolutionise how Brits enjoy their breakfasts. Each pot contains protein, fibre, calcium and iron, as well as both pre- and pro-biotics, so it is delicious and filling and will power the mind and body throughout the day. Served in convenient pots, Yo'ridge can be enjoyed at the breakfast table or on-the-go.
Yo'ridge is plant-based and free from dairy, soya and refined sugar. It contains absolutely no nasties, which means no additives, thickeners, emulsifiers, gums, added preservatives, or GMO ingredients. 
The Yo'ridge range is available in three delicious and nutritious varieties: 
Banana, Maple & Cocoa Nibs Breakfast Pot (RRP:  £1.99) – Yo'ridge's core ingredients are combined with banana, pure maple syrup and cocoa nibs to deliver a sweet and comforting breakfast pot with gut-healthy cultures
Apple, Cranberry & Cinnamon Breakfast Pot (RRP: £1.99) – Apple, cranberry and cinnamon mix with Yo'ridge's core ingredients to deliver a classic flavour combination, that gives Brits a delicious way to start the day
Blueberries, Raspberries and Blackcurrants Breakfast Pot (RRP: £1.99) – Yo'ridge's core ingredients are enhanced with blueberries, raspberries and blackcurrants to create a pot bursting with flavour and superfood goodness