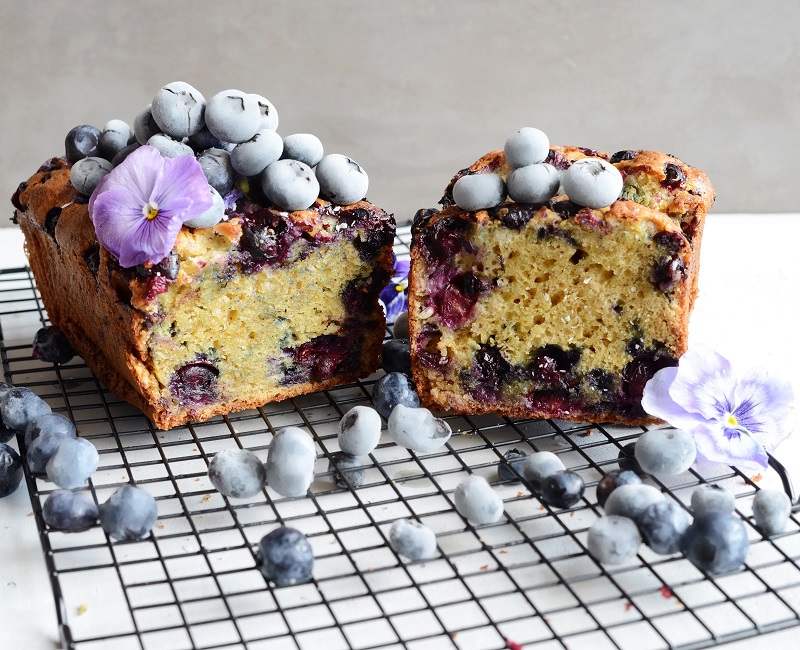 If you want to surprise your mum this Mother's Day, then you should definitely try the new blueberry loaf recipe created by Clarence Court ambassador Alpha Foodie. A delight of blueberries, lemon zest, cardamom, and Clarence Court's golden egg yolks will turn your mother's afternoon into a sweet treat.
Fill your home with the gorgeous smell of this blueberry loaf and let's get baking. To start with, you will need: ½ a cup of softened butter, 1 cup of sugar, 2 cups of white flour, 2 Clarence Court Burford Brown eggs, 2 teaspoons of vanilla, ½ a teaspoon of cinnamon, ½ teaspoon of cardamom (optional), 1 cup of Greek style plain yogurt, 1 teaspoon of bicarbonate of soda, 1 teaspoon of baking powder, 1 lemon (zest and juice), and 1 ½ cups of blueberries.
The first step towards your Mother's Day blueberry loaf is whisking the butter and sugar in a bowl, followed by the eggs, yogurt, vanilla, and cinnamon. Mix them well and then add flour, bicarbonate of soda, and baking powder. Keep mixing until you reach the right consistency and then add the blueberries. Pour the mixture into a non-stick loaf tin, set the oven to 170oC and bake for approximately 50-60 minutes. Take it out of the oven, check the loaf with a toothpick and if it comes clean, then it is ready to be served.
Clarence Court's eggs are special because they come from the jungle fowl birds that were brought to Stow-on-The-Wold, Gloucestershire, from Patagonia by botanist and explorer Clarence Elliot back in 1928. These rare birds were crossbred to create generations of pedigree hens that to this day lay beautiful, colourful, hard-shelled eggs with deep yellow yolks and a superior flavour.
Clarence Court birds lead a natural and happy life because the team has taken time to ensure the health and welfare of its hens are of the highest standard. They lay at their own slow, natural speed resulting in distinctively richer eggs. Clarence Court offers the widest range of eggs sold in Britain, including Burford Brown, Old Cotswold Legbar, Ostrich, Duck, Guinea Fowl, Goose, Pheasant, Rhea, Turkey, Emu and Quail.