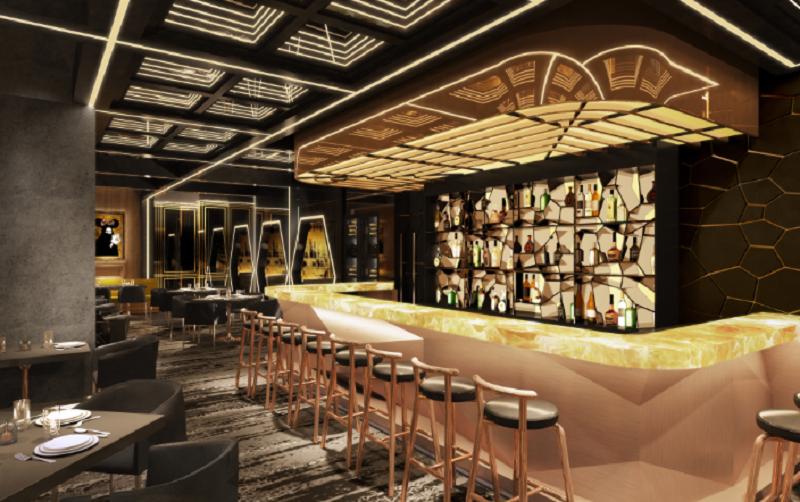 Caramel, a contemporary American restaurant and lounge group, will be launching its new site on Brompton Road, Knightsbridge at the end of this month. The 120 cover restaurant and lounge will offer a variety of internationally inspired food and drink, all specially curated for Caramel London.
The signature menu was crafted by Chef Sunil Vaz and it will be available for both lunch and dinner with dishes such as TNT shrimp, Caramel's petite beef sliders and lobster tempura. The restaurant will also serve breakfast, brunch, afternoon tea, and desserts. Breakfast will include the delicious chicken sweet potato hash, while for brunch guests can enjoy the Chinese chicken salad and honey & Pecorino ravioli. An assortment of finger sandwiches and delicate sweet and savoury delights will be presented for afternoon tea, starting from £37 per person.
"The Caramel restaurant and lounge concept has proved overwhelmingly popular internationally and I'm confident that the stylish and upmarket brand will fit in very well in Knightsbridge. Each individual site is unique and we tailor them to the locations that each of the restaurant lounges is situated in. At the London site, for example, we've added in an afternoon tea to our offering, providing Londoners and tourists alike with an unrivalled all day food and drink offering in a stunning setting," said founder and owner of Caramel Group, Mohammed Al Hashimi.
A range of signature cocktails and an extensive spirit list will be available at Caramel London. Cocktails will include the Brompton Garden made with Bombay Sapphire infused with orange, Kamm & Sons, lime, London Essence Co bitter orange & elderflower tonic as well as Sweet Habibi created with Bacardi Blanca infused with basil, maraschino, lime and elderflower. Wine lovers will not be disappointed either and will be able to enjoy a wide range of flavours that suit everyone's tastes.
Caramel London has sophisticated and stylish interiors designed by Dubai based Bishop Design LLC and located on the outskirts of London's design quarter, making it the perfect spot for pre and post shopping trips.