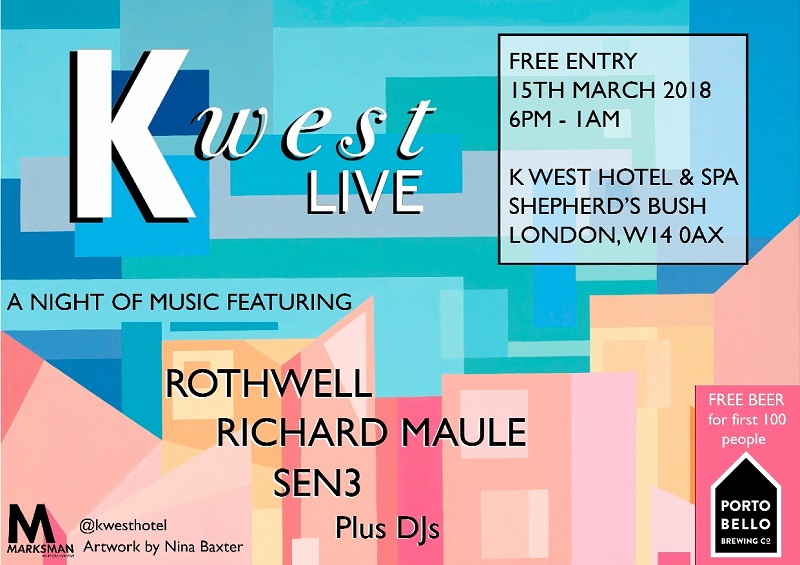 K West Live, a monthly music night event, has just been launched by K West in Shepherds Bush, a Bushstock Festival venue, and it will start on Thursday, the 15th of March in its Studio Bar. It will be held on the third Thursday of every months and it will showcase the best in emerging UK talent.
The free nights will welcome around 150 people and will include three live music performances together with DJ sets. In addition, the local craft brewery Portobello Brewing Company will be giving away FREE 330ml cans of London Pilsner to the first 100 guests.
K West Live will open its doors at 6pm, with artists appearing on stage from 7pm. Acts will be supported by notable DJs, who will play until 1am. The launch night DJ will be Ryan Scott.
The line-up for the 15th of March includes: SEN3, an exciting new genre-hopping guitar trio rich in melody and emotive harmonies, contemporary beat-culture and heavy riffs that received rave reviews and attention from Jazz FM, BBC Radio, Ronnie Scott's, and Jazzwise Magazine in 2017 for their debut album The Drop; Richard Maule, who has performed a 30 minute live session/interview with Radio 2 on Dermot O'Leary's show for his EP release 'esoteric groove'; and Rothwell Music, a young British singer-songwriter from Bristol, tipped by Metro as an 'Up-and- coming star' and who supported Justin Bieber on his Purpose UK Tour.
The dates for the future K West Live music nights include: 19th April, 17th May, 21st June, 19th July, 16th August, 20th September, 18th October, and 15th November 2018.
Due to its close proximity to The Hammersmith Apollo and Shepherd's Bush Empire, K West has established itself as a regular haunt for many artists and bands over the years. The hotel has become a festival hub, being one of the venues at the annual Bushstock Festival, where artists including Nick Mulvey play on its secret stage in 'The Courtyard'.