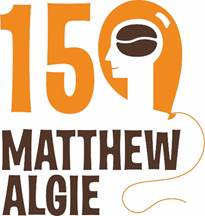 The UK's leading independent coffee roaster, Matthew Algie, has secured gold in the prestigious 2degrees Champions Awards 2015 at last night's awards (15 July) ceremony held at The Porchester Hall, London.
Regarded as ultimate recognition for those driving innovation and pushing the boundaries of sustainable businesses, the awards ceremony is a unique opportunity for businesses to be voted for by their peers. 2degrees is the world's leading collaboration platform and service for sustainable business with over 48,400 members from 177 countries. Their large scale programs and member services enable thousands of people to solve problems, share best practice and collaborate to procure solutions.
Matthew Algie were nominated for their on-going commitment to implementing a number of adaptation strategies to promote the conservation and protection of water resources. The two-year project, which launched in 2013, in partnership with ethical trading company, Twin, was supported by Matthew Algie as part of their ongoing commitment to the San Juan del Oro coffee cooperative in southern Peru with whom they have a longstanding relationship.
Working alongside and Fondoempleo – a Peruvian organisation responsible for financing sustainable employment projects – the initiative's aims are to help member producers protect themselves against climate change and water scarcity by taking them through The Rainforest Alliance Climate Module, a training workshop that has been developed specifically for cooperative. Ultimately this will build their capacity to produce a more sustainable supply of certified coffee.
"The farmers we work with identified water scarcity and unpredictable rainfall as a major challenge so we decided to do something to help," explains Matthew Algie's Technical Director, Ewan Reid. "By committing to support the San Juan del Oro cooperative's farmer members with climate change adaptation they can not only secure their future but we can continue to buy their delicious triple-certified coffee for our blends here in the UK & Ireland which consumers enjoy."
To date, workshop training on how to manage and conserve water more effectively has seen 73 farms complete the Rainforest Alliance climate change module and a further 73 are expected to do so March 2015. In addition, essential equipment – in the form of tubes and tanks – has, been supplied to half of the member farms to ensure a clean water supply. Farmers have also been supported in the planting of 780 native trees in the buffer zones around water sources so that they are protected and erosion is prevented.
The project was recently extended with further funding from the UK Fairtrade Foundation and Matthew Algie, demonstrating how supply chain stakeholders can come together to think collaboratively about how to secure their supply chain and mitigate future risks. It has also been an opportunity for civil society organisations such as Fairtrade and Fondoempleo to develop best practice and delivery of sustainable development goals for the coffee farmers.
Andrew Jack, Head of Marketing for Matthew Algie commented:
"I am privileged to pick up this award and to play a part in the creation of this exceptional project which is a result of a collaborative effort to ensure that our supply chain is grounded in strong responsible water stewardship principles. Sustainability is a core principle at Matthew Algie on several levels. We seek to ensure sustainability through our approach to sourcing, reducing our environmental impact, investing in our employees and engaging with our community."
Alongside Fairtrade, Rainforest Alliance and Organic organisations, Matthew Algie also works directly with the farmers, building long-term relationships which allowing them to better understand their needs and deepen the strategic impact by implementing targeted sustainability projects.