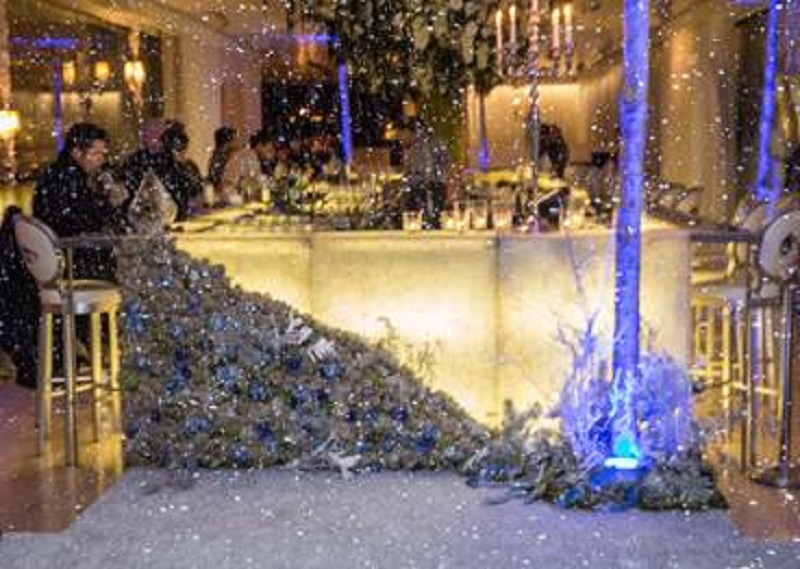 The iconic Long Bar at Sanderson showing that it isn't Christmas until it snows, and have been working to prolong the white stuff this season in order to give Londoners the White Christmas that everyone has been hoping for. Until Christmas Eve, the Long Bar has been transformed in to a winter alpine forest, which comes complete with dangling birches, frosted pine cones and falling snow.
The festive Let It Snow bar brings the outside in and allows festive shoppers to escape the crowds from neighbouring Oxford Street in order to head for a true Winter Wonderland. The bar has flickering candles that welcome guests to the bar which has been decorated with a color scheme of crystal blues and shimmering icy whites. The bar offers a range of festive cocktails that are exclusive to the Christmas pop-up. The drinks menu at the Let It Snow Bar has been exclusively curated with their official drinks sponsor Bombay Sapphire Gin and Star of Bombay gin. The cocktail menu consists of four luxury cocktails will include the signature French 75, a £14 cocktail that has been created with a mix of Star of Bombay Gin, Champagne, lemon juice, a sweet sugar syrup and a citrus garnish.
Open until the 24th December, Let It Snow at the Long Bar will be prolonging the falling snow during the holiday season. The bar will also be offering a selection of warming bar snacks for those looking for a festive bite to accompany their drinks. All of the dishes on offer are £6 and include a range of Crispy Braised Beef Cheek with Kimchi Dip, Turkey Mushroom Fritter with Candy Chestnut and Red Currant Hash as well as Maple Roasted Brussel Sprout Skewers with Turmeric Bacon and Hazelnuts. Access to the bar is limited to those who are 21 or older and is the perfect grown-up winter escape to enjoy the holidays in style.