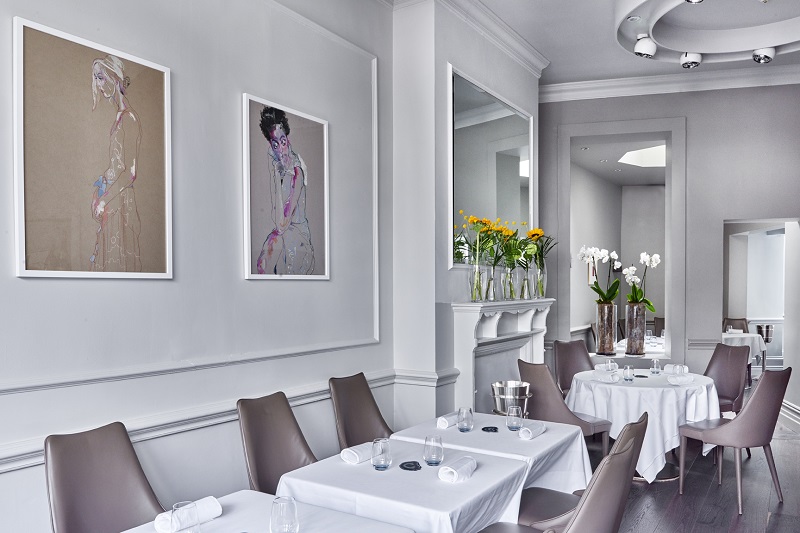 Launceston Place was first opened in 1986 and is located in Kensington, London. The restaurant has recently undergone some refurbishment works, the results of which have been revealed recently. The new appearance of the restaurant comes after the appointment of a new head chef. Ben Murphy joined the restaurant earlier in 2017.
It is thought that the fresh spring refurbishment of the restaurant situated in an 1839 Kensington townhouse will make the restaurant brighter and make it feel more contemporary. It is thought that the décor choice includes blue-veined timber floors and a colour scheme that is light and fresh. The colour chosen for the restaurant is French grey. The intention behind the pale and blank colour scheme is to allow the exhibition of a number of new paintings. The restaurant has a new collection of paintings that has been curated the Amar Gallery which is in Islington. The artwork is inspired by the creative work of the new head chef, as well as mixing figurative expression with peaceful minimalism.
The pieces of art in the collection include work from Lee Ufan, a Korean minimalist artist; and HOWARD Tangye who is an illustrator and painter who is based in London. Elsewhere in the restaurant there are plans for an intricate mural to be hand painted on the walls of the staircase in the restaurant. This mural will be unveiled at some point in the Summer of 2017.
Also to reflect the new spring-like changes to the restaurant, Ben Murphy has made changes to his menu. Now available will be dishes that are more seasonal, such as Asparagus, Walnut and Bacon. Another dish that has been added to the menu are Peach, Jasmine and black pepper. These new dishes will appear on the menu alongside Ben's more popular signature dishes which includes Carrot with lovage, yoghurt and caraway.