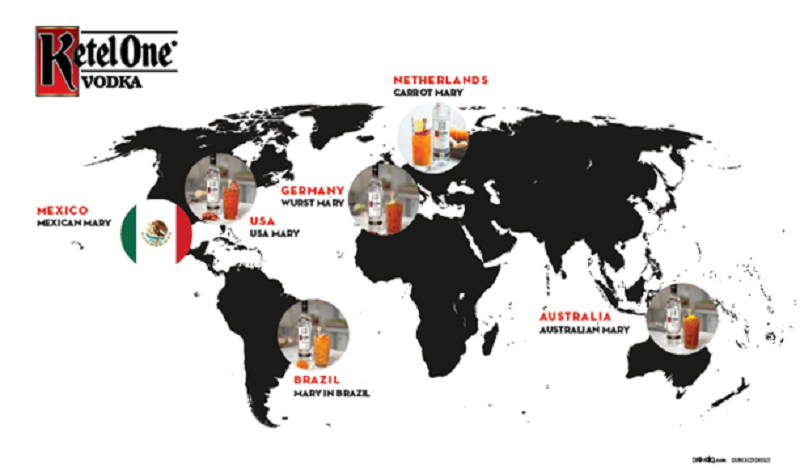 The concept of Brunch is gaining in popularity around the world recently. It has been found that Brits spend £76 million on it every day, and searches for brunch by Canadians have increased significantly, by 234% in comparison to last year. Brunch is becoming more and more popular around the world; with more searches in Malaysia, Thailand, New Zealand, Australia, UAE and the US as well a number of countries across Europe. As part of this, a classic cocktail has been seeing a resurgence in popularity.
The Bloody Mary is a perfect choice at any good brunch and is one of the bestselling cocktails in the world. Ketel One Vodka has been described as the perfect spirit to make the King of Brunch cocktail.
The World Class Bartender of the Year final took place recently and saw 55 highly skilled bartenders from right around the world create their own variation on the classic Bloody Mary. In these drinks were thousands of different ingredients and garnishes in order to display the bartenders' skills and twist on a classic cocktail. Even though the flavour combinations of each drink were different, all bartenders at the competition used Ketel One Vodka, seen as the bartender's favourite vodka.
As a part of the World Class Bartender of the Year final, the Bloody Mary served with spicy pink peppercorns, fennel seeds and horseradish alongside carrot juice in order to create a vibrant orange adaptation of the classic. One Australian creation included tomato juice, hot sauce, balsamic vinegar and pale ale.
The Dutch heritage of Ketel One was given a nod with a Carrot Mary cocktail featuring carrot, apple & pear juice as well as freshly squeezed orange, tamarind and ginger paste. The guests at the final were also treated to a Mexican twist of the classic cocktail, with fresh red pepper, Chile chipotle and Ketel One, created by Ricardo Sandoval, the leading Mexican bartender and as a celebration of the competition's host country.