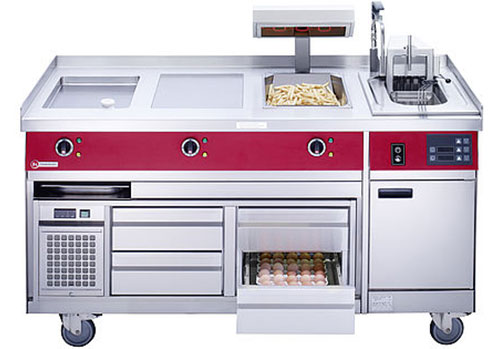 Küppersbusch Food Service Equipment have won another award for their cooking innovation, the company have won the title of 'Best of 2016' in the industry awards. The Gelsenkirchen Company won the award for its mobile range system Palmarium Mobile. MD for the company, Marc-Oliver Schneider stated his delight with the results of the awards stating that the company were thankful that they had won their second awards for the product, since recently winning the award for Hotel & Design Award in April.
The Huber Publishing Company for New Media presented the awards to companies and their products who made extra effort in making considerations for economic, social, technological and ecological benefits.
The panel was made up of experts from the industry including critics, professors and specialised journalists. PalmariumMobile now sits happily in the top group for Production Technology & Mechanical Engineering after the panel approved of their entry.
The mobile range system uses robust rollers, tailor made to suit the needs of customers, making sure to adapt to customer needs. The product has been specifically designed to be adaptable and useable in different locations at any time.
Palmarium pride themselves on being adaptable and meeting users' needs, the new system not only matches the original product range but it is also adaptable to its locations being it can be moved around to and altered to suit the needs of the users.
The design of the PalmariumMobile is designed to be easy and mobile around the kitchen, the design is also very compact. The technology means that customers can adapt the product to their needs. The product doesn't require any major installation as it is easy as 'Plug and Play' this also makes the product suitable for restaurants and pop up shops, outdoors cooking or live sessions. The product can simple be moved to where needed.