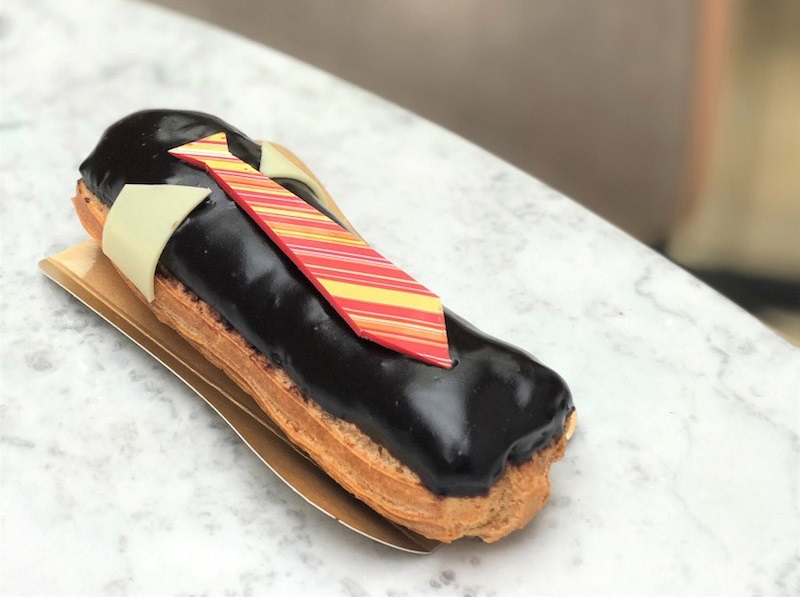 With Father's Day fast approaching on the 18th June. the Dominique Ansel Bakery in London have released the Father's Day Éclair. This special product is not only to celebrate the date, but to also celebrate that it is the Bakery's first Father's Day in operation.
Dominique Ansel started her career at 16 while working in a local French kitchen in order to help support his family. Dominique then switched roles and started to teach locals of to cook while he was in French Guyana as part of his military service. Dominique then moved on and started working for Fauchon in Paris. Dominique moved to New York in 2006 and worked in the role of Executive Pastry Chef for the restaurant Daniel. Dominique worked here until he opened the Dominique Ansel Bakery in New York in 2011. The first Bakery consisted of a 100 sq. ft. kitchen and four employees, however Dominique has managed to generate a reputation for unique patisserie creations while opening another bakery in New York, one in London and two in Tokyo. Dominique will also be opening his first full service restaurant in the Autumn of this year in LA.
The delicious pastry for the Éclair will be filled with a ganache made from Valrhona, which is a dark chocolate, and Dewar, a 12 year old whisky. The Éclair will be topped off with a dark chocolate glaze and accessorised with a bold striped collar and tie. The special creation can be purchased in store at the Dominique Ansel Bakery as well as pre-ordered and used for a gift. All of the products, including this special Éclair will be excellently packaged to be the perfect sweet treat for Father's Day.
The Dominique Ansel bakery is said to be an ideal location to visit in order to celebrate Father's Day. The Bakery is situated in central London and is in a close proximity to Victoria Station. The Bakery is also close to the beautiful jasmine open air terrace.