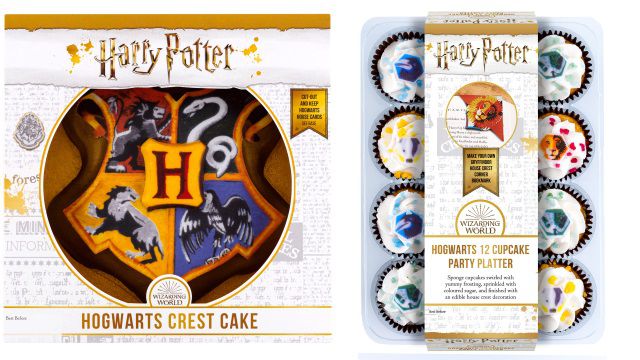 Finsbury Food Group, the market leader in licensed cakes, is looking to further the success of its portfolio by announcing the addition of Wizarding World inspired Celebration Cakes to its range.
Launching this September in partnership with Warner Bros. Consumer Products, Finsbury will produce a Harry Potter Celebration Cake, Gift Cake and Cupcake Platter, ensuring it is producing cakes that can answer the most popular cake eating occasions and opportunities.
The team of design experts behind Finsbury's cakes looked at the most stand-out elements of the Harry Potter franchise to determine the best way to bring the Wizarding World to life in a range of celebration cakes. All the cakes in the new range have been made with a focus on the different Hogwarts Houses, giving consumers the opportunity to pick their favourite.
The gift cakes are topped with a striking logo of each house's emblematic animal, the 12-pack platter features the crests of the different Hogwarts houses and the celebration cake depicts the iconic Hogwarts crest. The sleeve of the cupcake platter also transforms into a house crest, corner bookmark in a clear link to the books that started the phenomenon.
Finsbury has added gift cakes alongside the more traditional large celebration cakes in recognition of a growing trend for smaller cakes that can be consumed as part of a celebration or form a gift. The decision to produce a 12-pack of individual cupcakes is also in response to the continuous popularity of cupcakes as products that are easier to consume on the go and share.
Jordan McCann, Junior Brand Manager at Finsbury Food Group who have created the range in partnership with Warner Bros. Consumer Products, said: "Harry Potter is one of the most beloved franchises of all time and we're delighted to have secured the opportunity to introduce it to the cake category. We pride ourselves on finding innovative ways to bring the most popular films and TV shows to the cake aisle. We work incredibly hard to examine what consumers will most want to see on a cake range that links to their favourite films and know it's about making the purchase a fun experience that you can share with friends and family. We've taken this into consideration across the full range of Harry Potter cakes and are sure that fans will appreciate the opportunity to enjoy a bit of Harry Potter magic through cakes!"