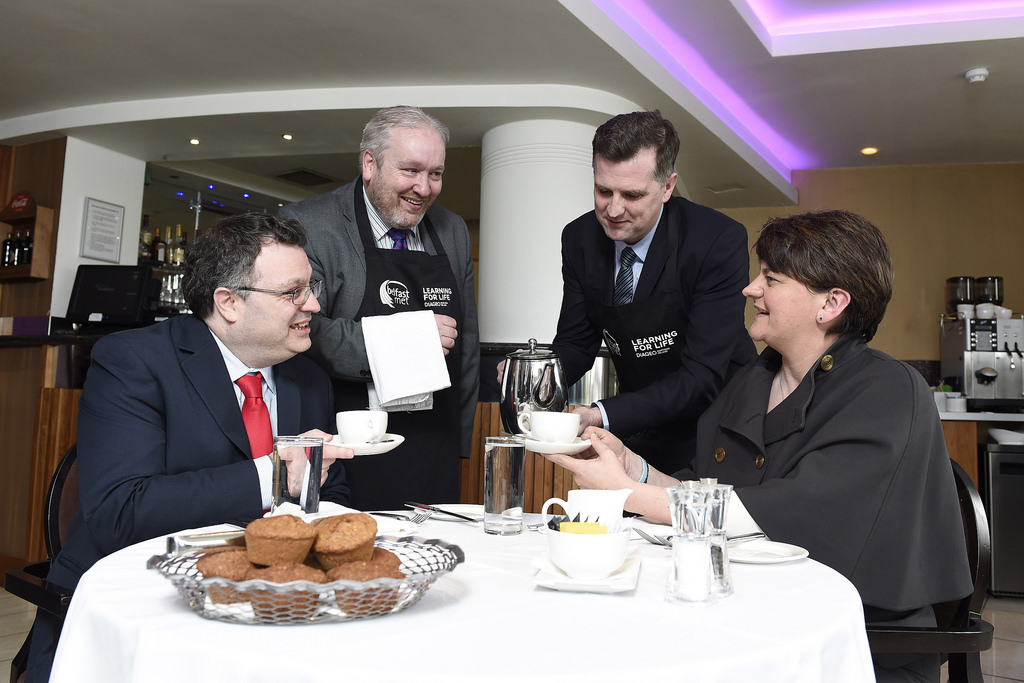 Back and bigger than ever for 2017, the world-class culinary competition, Salon Culinaire, returns to the Great Hospitality Show this January with a jam-packed programme of competitions designed to showcase the wide range of talent within our hospitality industry.  
 Entries to the competition, which runs from 23rd – 25th January at the NEC, Birmingham, are now open and with a line-up containing a mix of some of the industry's most popular classes plus some exciting new competitions, chefs with all levels of experience are being urged to get their entries in early to ensure they don't miss out on their chosen category. This year a simplified entry process means all competitors have to do is visit http://www.hospitalityshow.co.uk/salon-culinaire, to enter and be a part of this illustrious competition.
Longstanding elements of Salon Culinaire – the Live Theatre, La Parade des Chefs and Salon Display classes all return for 2017 along with the Skills Theatre, which, after its hugely successful launch at Hotelympia in 2016, will be coming to Birmingham for the first time. This element is designed for both chefs and front of house staff who are in the early stages of their careers, giving them a chance to hone their skills, get a taste for the thrill of competition and perform under the spotlight. Classes such as Table-laying will be held alongside Knife Skills, Cocktail Mixology and Flambé work and entrants can expect to receive feedback from highly experienced judges which will prove invaluable as they progress up the career ladder.
The Salon Display category, sponsored by Compass Group, returns with a range of challenging platters, restaurant plates and pastry classes as well as the ever popular sugarcraft section which sees beautifully intricate entries on display for the duration of the exhibition – adding a real wow-factor to the show.
For the very first time the sugarcraft category will invite talented teams to work in collaboration on stunning displays.
When it comes to the Live Theatre, sponsored by Compass Group with equipment supplied by Manitowoc and Gram, entrants can expect some exciting new competitions to consider including the Vegan Challenge, Cheese Starter and Breakfast Power Bowls in addition to some great team challenges and old favourites, such as the Street Food Challenge.  Another exciting new element, The PS100 Culinary Showcase, will showcase the impressive culinary skills within the public sector.  Chefs and cooks will have one hour to produce a main course and a dessert using the same key ingredients, but will be constrained by both the budgets and nutritional guidelines faced daily in their own particular areas of work, be it care, education, hospitals or otherwise.
Finally, Junior La Parade des Chefs is set to return, with teams consisting of competitors aged 23 or under tasked with preparing a three-course lunch menu for 100 covers with £1 from each diner going to the charities Just A Drop and Hospitality Action. Plus on the evenings of Monday 23rd January and Tuesday 24th January La Parade des Chefs will host the College Canapé Competition, sponsored by the Worshipful Company of Cooks, each night a college will be tasked with preparing a selection of canapés to be served with champagne to a VIP audience of 60. One team will be crowned overall College Canapé Competition Champions. All teams will compete in the Bonnet Kitchen provided by Hobart Cooking Solutions, which will also include refrigeration from Foster and warewashing equipment from Hobart Warewash.
Keen to see new talent coming through, Salon Culinaire Chef Director, Steve Munkley, said: "The competition line-up at Salon Culinaire offers a class for everyone regardless of level of experience or sector of the industry you work in. It is a wonderful opportunity for experienced chefs and novices alike and I would urge anyone who is keen to progress in their careers to visit the Great Hospitality Show website and get their entries in. Good luck to everyone competing, I have no doubt that participating in Salon Culinaire will be a rewarding experience and help to set you in good stead for the rest of your career in this fantastic industry."
For the chance to compete in Salon Culinaire, don't delay and enter now by visiting http://www.hospitalityshow.co.uk/salon-culinaire for your chance to experience one of the most competitive culinary events in 2017. Deadline for entries is 25th November 2016.
For further information please see www.hospitalityshow.co.uk and follow us on Twitter www.twitter.com/HospShow for everything Hospitality.