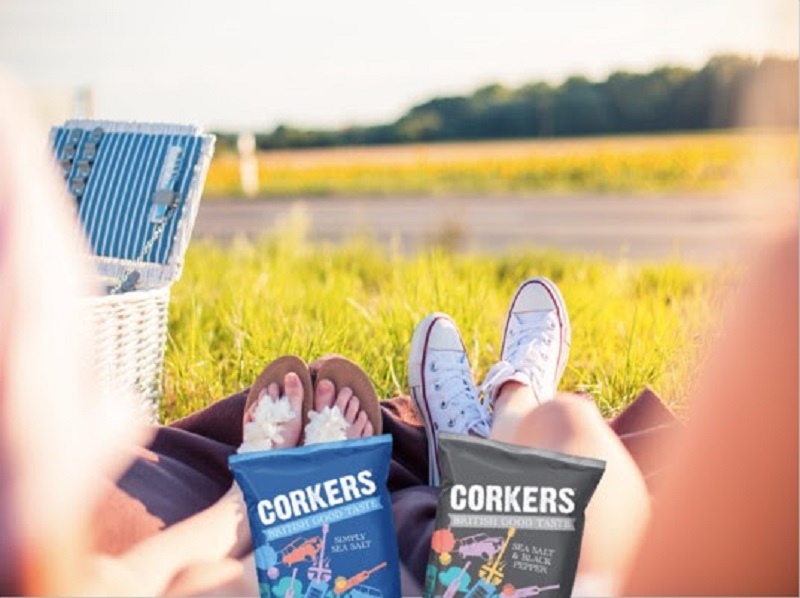 Corkers is making your food and drink decision easier by creating the perfect summer snack pairings for your picnic.
1. Simply Sea Salt + Pimms. Cut through the sweetness of a cool glass of Pimms with Corker's Simply Sea Salt. It saltiness is the perfect complement to the refreshing fruity cup.
2. Cheddar Cheese and Chive + Scotch Eggs. Enliven your picnic with Corkers' Cheddar Cheese and Chive. With a smack of cheddar and zingy chive – have these on the side to a scotch egg and make a modern day version of the classic ploughmans!
3. Sea Salt and Cider Vinegar + Rose. Corker's Salt and Cider Vinegar crisps are a perfect pairing with Rosé wine. As the weather warms, there's simply no better time to turn to brilliant blushes, and when paired with the classic tangy vinegar it will transport you to the sunny seaside
4. Sweet Potato, Parsnip, Carrot & Beetroot + Burgers. If you're thinking of having a BBQ, why not add Corkers' mixed vegetable crisps to your burgers for that extra crunch and flavour?
5. Sea Salt & Black Pepper + Sauvignon Blanc. Salt and pepper crisps need wine with high voltage aciditiy. Sauvignon Blanc with spar expertly with spicy pepper, creating a rounder, well-balanced crisp flavour.
Corkers are made using the company's award winning Naturalo potatoes, created by the team and grown on their farm. The perfect frying potato with a white skin makes for extra crunchy crisps that are hand cooked, gluten free and with no artificial or MSG products.
Growing their own spuds means Corkers are in complete control of the supply chain from seed to bag, meaning they know the provenance and origin of every single potato and packet.
The crisps can be found in Harrods, Ocado, countryside farm shops, local delis, railways and airlines in 40g and 150g bags.