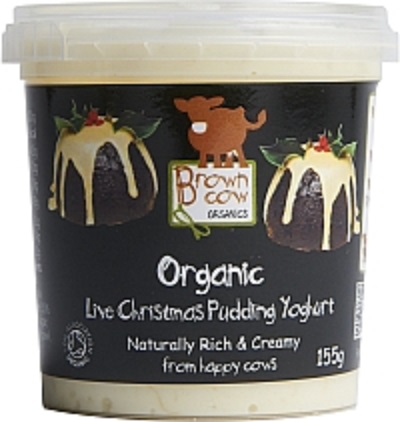 Brown Cow Organics has introduced a 155g Christmas Pudding flavour live organic yoghurt into their multi award winning range of organic yoghurt (there are 10 additional flavours.). This limited edition flavour is  available now; a seasonal artisan dairy twist to the most traditional of Christmas desserts – their Christmas Pudding yoghurt is going out to their stockists now and will be available until Christmas, you can call or email Brown Cow Organics for your nearest independent retail stockist or you can purchase online from Abel and Cole.
Artisan made on their organic farm, Brown Cow Organics yoghurts are produced using only their own organic A2 beta casein protein rich whole milk from their born, bred and grazed Guernsey herd.   Ingredients are totally natural, non-homogenised, and are rich in Omega 3s and other trace elements. A small team of dedicated local people hand make the yoghurt which is then hand poured into recyclable, re-usable pots.  The yoghurt is never homogenised or pumped as this would destroy its molecular makeup and natural creaminess.  This artisan process produces naturally thick rich yoghurt without using emulsifiers, stabilisers or thickener.
Of this new seasonal flavour owner Judith Freane said "it is the only Christmas Pudding organic live yoghurt available on the market from an organic artisan producer; or indeed at all in the independent retailer sector to my knowledge."   Introduced as a lighter alternative to the usual pudding or indeed for a seasonal breakfast; Christmas pudding and yoghurt lovers are sure to snap these up.
Brown Cow Organics sell their organic yoghurts only through independent retailers, you can also order in packs of 4 x155g from their Christmas Fayre range online for delivery on 23rd December.
Their full organic Christmas range consists of Organic Beef, Organic Turkey, Organic Goose, Organic Gammon, Organic Trimmings and Organic Yoghurts – all available for national mainland UK delivery to your doorstep, or collection direct from the farm or Wells market on 23rd December.