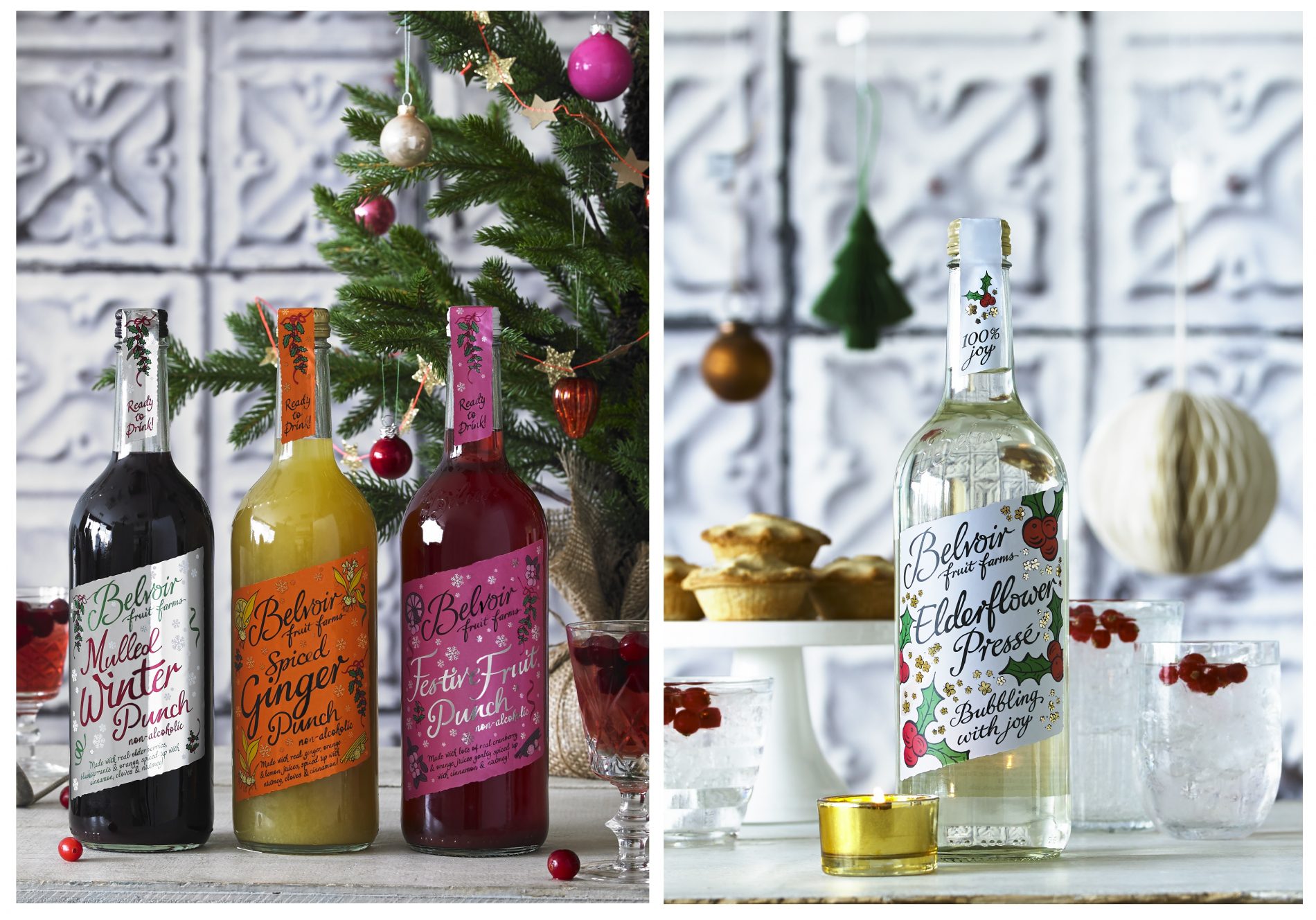 Belvoir Fruit Farms is launching a range of seasonal drinks including the return of the limited-edition Christmas label for their Elderflower Pressé which proved so popular last year.
Boasting a jolly, holly illustration partnered with the brand's iconic elderflower motif dressed to impress in festive, sparkling, golden foil, the label is completed with the cheerful seasonal message 'Bubbling with Joy'
Seasonal drinks also create interest in a category at a time when consumers are seeking something inspiring to serve to the growing number of people turning their backs on booze, or simply to give their festive gathering some kind of stand out. Belvoir's range of seasonal cordials and punches can do that.
Bursting with fresh ingredients and natural fruit juices expertly hand blended on the family farm using real flowers, fruits and spices, they contain no artificial sweeteners, colourings, preservatives or flavourings. All can be heated through and drunk warm, but if preferred, can be served cold. And all are delicious on their own, or can be boosted with booze to ensure a good time is had by all!
Belvoir Mulled Winter Cordial

– an intense fruity blend of cranberry and orange juices complemented with warming winter spices and a touch of lime. The cranberry adds a slightly tart, mouth drying note. For a truly festive touch try it as a warming hot toddy with a dash of rum or vodka.

Belvoir Festive Fruit Punch

– a fruity

combination of the rich taste of real cranberry and orange juices, with a splash of blackcurrant and lime juice and the lingering hint of cinnamon and nutmeg, all blended with spring water so it's ready to drink. It's fabulous served warm as a non-alcoholic festive punch or simply as a more flavoursome alternative to fruit tea, but add a good glug of vodka for instant cheer.

Mulled Winter Punch

– the indispensable ally for every discerning host. When gently heated its combined flavours of nutmeg oil, mixed spice extracts and juices of blackcurrant, red grape, elderberry and orange exude a merry non-alcoholic aroma.  But for a quick and super-easy traditional Mulled Wine simply add a glug of red wine or port.

Spiced Ginger Punch

– cooked fresh ginger provides a satisfyingly fiery bite, that mingles enticingly with the mouth-watering sharpness of orange and lemon juices, plus exotic spices for a finishing warmth on the tongue. It's delicious drunk warm as a non-alcoholic winter punch, but, try adding a splash of whisky for a spicy alcoholic treat, or mix with white wine for a lighter, mulled white wine punch.
Belvoir's seasonal winter drinks are available now for around £3.50 per bottle. The 'Bubbling with Joy' limited edition Elderflower Pressé bottle will be on sale from the middle of November, with a 75cl bottle having an RRP of around £2.50.