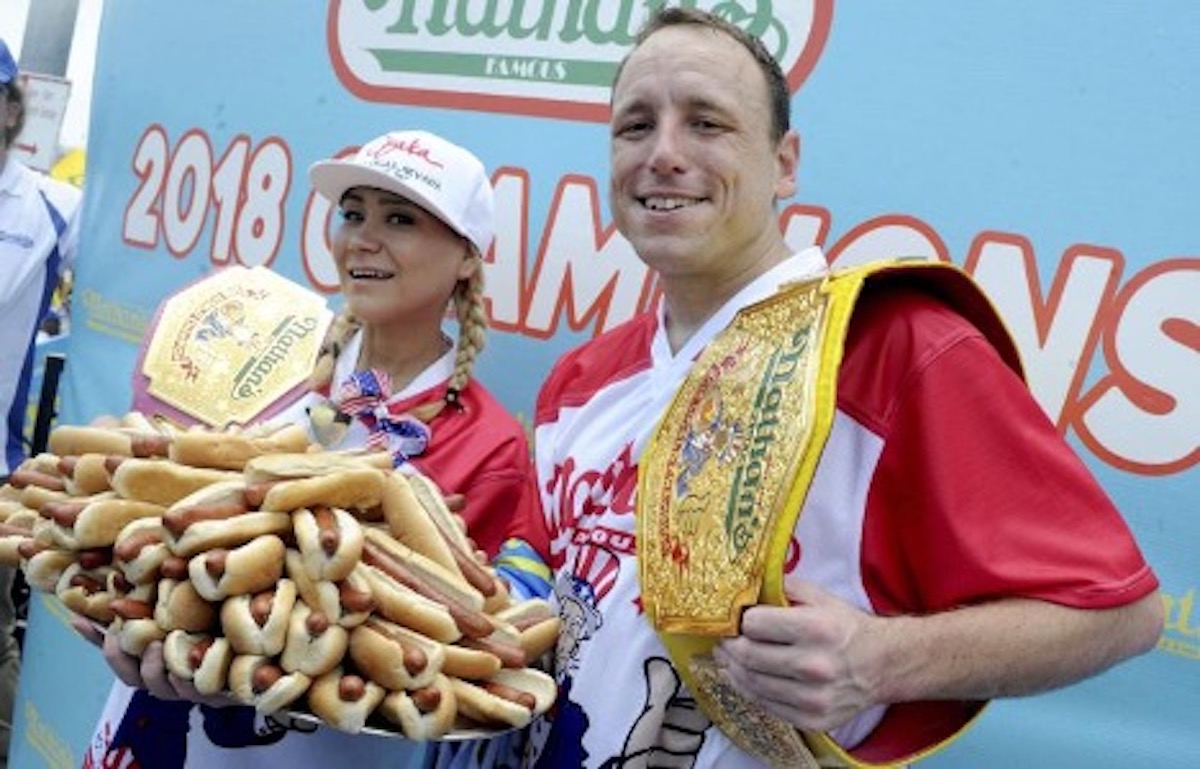 Joey Chestnut is a major league eater. As a matter of fact, Chestnut is the undisputed kind of Major League Eating, the governing body over professional eating competitions.
Now, cramming as many hot dogs down your gullet as fast as you can might not seem like the ideal way to earn a living, but it's proven to be a very lucrative pursuit for Chestnut. The 37-year-old from Vallejo, Calif. Is reported to have a net worth of $1.5 million.
Hot dogs have proven to be his meal ticket to fame and fortune. He's won the annual July 4th Nathan's Hot Dog Eating Contest five years in succession and in 13 of the past 14 years. His feats of gastric feasting can also pay dividends for you. Already, online sportsbook BetOnline is offering odds on how many hot dogs Chestnut will consume during the 2021 Nathan's competition. The bar is set at 74.5 hot dogs eaten. Last year, Chestnut gobbled down 75 wieners and buns to establish a new world record.
It's All About Mom's Home Cooking
Chestnut, who stands 6-foot-3 and weighs in at 230 pounds, is nicknamed Jaws and is the No. 1 in the world in the MLE competitive eater rankings.
He credits his mother's home cooking, combined with the absence of money during his college days at San Jose State, for enabling him to develop the skills that turned him into the world's greatest eater.
As with most college kids, finding the funds to afford sustenance was a daunting task for Chestnut. When he'd come home for visits, he did so with a warmth in his heart and the pangs of hunger in his belly. And nothing filled up that void in his stomach like the meals prepared by his mom.
A second helping? Sure, bring it on. Thirds? Fourths? Well, you get the picture.
It was Chestnut's brother who encouraged him to enter his first competitive eating competition, though Chestnut admits on his personal website JoeyChestnut.com that not much arm twisting was required to convince him to do so.
"A free hotel stay at a casino and all the lobster I can eat?" Chestnut said. "Sure, I'll give it a shot."
He first gained fame when Chestnut devoured 12 pounds of deep-fried asparagus at the Stockton Asparagus Festival on Apr. 26, 2014. The mark still stands as a world record.
He first entered the Nathan's Hot Dog Eating Contest in 2005 and finished third behind perennial champion Takeru Kobayashi. Two years later, Chestnut ended Kobayashi's six-year reign as Nathan's title holder and he's been devouring the competition ever since.
Hot Diggity Dog
During his 2007 Nathan's victory, Chestnut also set a world record by downing 66 hot dogs. In essence, he is to weiner eating what Babe Ruth was home runs and Wayne Gretzky was to goals, assists and points, because the records that Chestnut continues to break are his own.
He upped his mark to 68 in 2009, equaling it in 2012 and making a solemn vow after the competition. "I will not stop until I reach 70," Chestnut told the Boston Globe. "This sport isn't about eating. It's about drive and dedication, and at the end of the day, hot dog eating challenges both my body and my mind."
Chestnut finally ascended to the 70 hot dog plateau in 2016. He upped his mark to 72 in the 2017 and 74 in 2018. At last year's competition, Chestnut broke his record yet again.
He consumes hot dogs as if they were his oxygen. Chestnut does to his Nathan's opponents what Secretariat did to the field at the 1973 Belmont Stakes. He distances them, leaving all others to eat his dust.
In the 2020 event, second-place finisher Darron Breeden downed just 42 hot dogs.
Joey's Record Consumption
While best known for scarfing down hot dogs, Chestnut in fact is the current holder of 43 world eating records. Among the many standards he has established include marks for the most Twinkies, shrimp cocktail, tacos, tamales, poutine, pulled pork, pierogies, Philly cheese steaks, meat pies, jalapeno poppers, pastrami, ice cream sandwiches, gyros, funnel cakes, gumbo, apple pie, eggs, chicken wings and burritos eaten in one sitting.
Chestnut trains for his competitive eating feats by fasting and by stretching his stomach with the aid of milk, water and protein supplements.