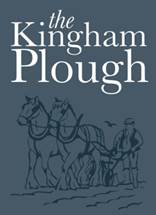 Emily Watkins, Chef Proprietor at The Kingham Plough near Chipping Norton is delighted to have won County Pub of the Year again in the Good Pub Guide 2016.
The editors of the Good Pub Guide have once again finished their annual sweep of the very best fine dining pubs across the United Kingdom. The award for the best county pub was shortlisted down to 50 across the UK before The Kingham Plough, a pub with rooms, came out on top for the 2016 award. Fiona Stapley, Editor of The Good Pub Guide, said the feedback from readers was excellent making The Kingham Plough a natural choice as a winner.
Fiona added: "The food that Emily Watkins cooks at the Plough in Kingham is inventive and exciting and the pub deserves to be Oxfordshire Dining Pub of the Year in our newly published Good Pub Guide. But there's a proper bar, too, with an interesting range of drinks served by knowledgeable staff and a genuine welcome for all".
Emily Watkins who recently appeared on BBC's Great British Menu as a veteran judge, is thrilled to have been awarded again saying, "We are so proud to have been awarded Oxfordshire pub of the year for the second year running. It means so much to us – it proves that we the guests are enjoying what we spend so much time to creating – a real pub with delicious food. A huge thank you to both the editors and readers of the good pub guide".
The Kingham Plough has celebrated much success already in the year of 2015 from being accredited a two SRA Rating for their sustainable kitchen to proudly watching Emily Watkins participating again in The Great British Menu to performing a live demo at Jamie Oliver's Big Feastival. The Kingham Plough has also recently undergone refurbishment, expanding to six bespoke bedrooms for guests.