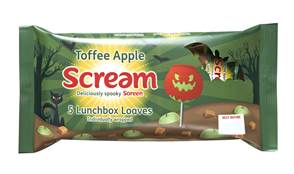 Soreen, maker of The Original Malt Loaf, is launching a new flavour, Chocolate and Blood Orange, as part of its limited edition 'Scream' range of Lunchbox Loaves for one of the biggest seasonal events of the year for some retailers, Halloween.
Chocolate and Blood Orange, made using natural orange and blood orange flavourings with milk chocolate chips, will be available in five individually wrapped Lunchbox loaves with a Halloween-themed party idea on pack at a RRP of £1.35. The Scream range will be listed in Tesco, Asda and Morrison's from the 21 September to 8 November.
Paul Tripp, UK Managing Director of Soreen, said: "Our limited edition Scream range enjoyed great success when in launched in 2014, so we're confident that this new flavour addition will be devilishly successful and build on the already strong growth in Soreen Lunchbox Loaves.
"Falling on a Saturday this year, Halloween will undoubtedly result in more consumers making the most of the opportunity to celebrate."
Soreen's value sales have risen by 15.1% and volume sales by 9.4% over the past year and penetration has increased from 22% in 2011 to 31.9% at May 2015 as the brand has added new products to its core lines and invested in above the line advertising.