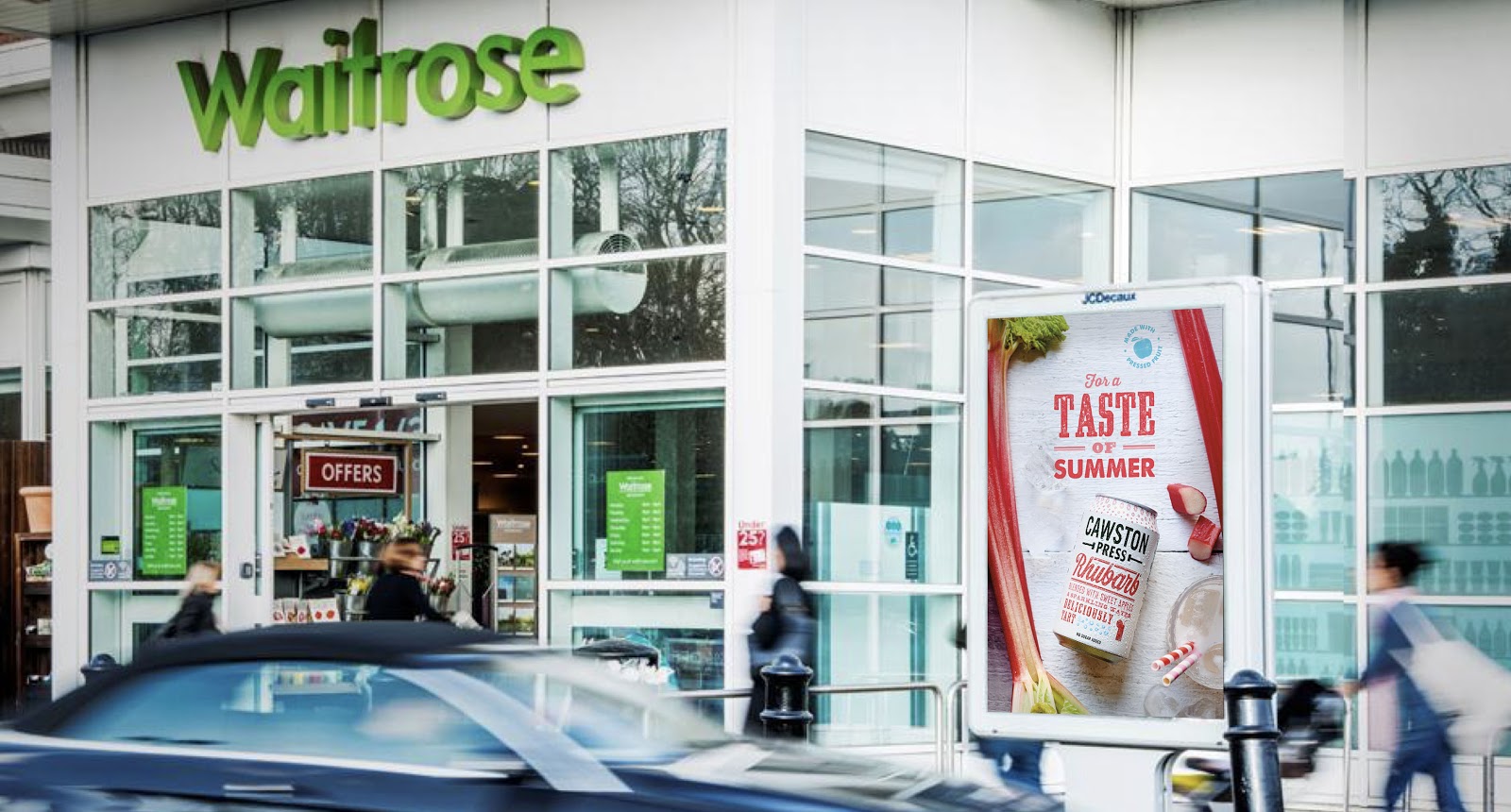 Cawston Press has launched its first ever outdoor advertising campaign with a series of 'Taste of Summer' 6 sheets that have gone live across the Waitrose estate as part of a fully integrated promotional and media campaign with the same customer. Created by the Cawston Press in house design team, the campaign will be rolled out across all areas of their marketing strategy, as well as through external customer partners.
"We miss those nostalgic days when a 'fizzy drink' meant a lunch break, a baking hot day, time off and time out; when drinking a can of pop was always 'oo, that'd be nice.' We set up Cawston Press to get a bit of that back; but without all the sugar and artificial nasties that gave fizzy a bad name. We feel this campaign sums up that sentiment perfectly. Our sales and distribution growth give us confidence that there's an increasing opportunity for fizzy drinks made with great quality ingredients, that deserve to be enjoyed and we're delighted to be celebrating that with our customers," said Managing Director Steve Kearns about the campaign's message.
The news of the campaign follow the announcement that Cawston Press has completed its fundraising round of £1 million, which was reached through existing shareholders, members of the Cawston Press team from the UK, Australia and USA as well as a select number of private investors in the food and drink industry.
Following the recent introduction of the brand's no added sugar sparkling range recipes in the UK and a continued push for international distribution, the fundraising came at a critical moment. In 2017 the brand first launched into the US natural and speciality food channels and is now supporting this market with a bigger local team and key retailer trade marketing programmes. Later this summer, Cawston Press sparkling drinks will also launch in France.