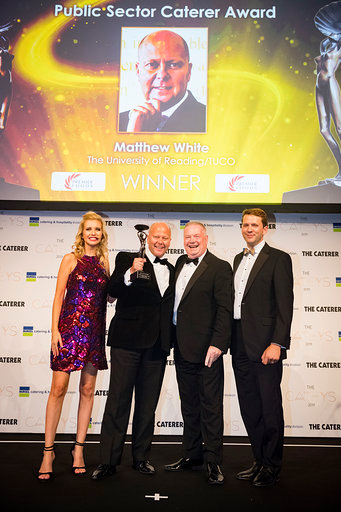 Last night, Matthew White, chairman of The University Caterers Organisation (TUCO) and director of campus commerce at the University of Reading was announced the winner of the public sector award at the esteemed Cateys Awards 2019.
An audience of 1,200 including an impressive line-up of Michelin-starred chefs and high-profile industry professionals gathered at the 35th prestigious event, which took place at the Grosvenor House, A JW Marriott Hotel in London.
Matthew White said:
"To win the public sector award at this year's highly respected Cateys Awards is a huge honour. I was delighted to be nominated and shortlisted by my peers, and to go on to win is incredible."
He adds, "Winning this prestigious award is a fantastic achievement for myself and TUCO. Our #TUCOfamily is what drives the organisation. I am extremely proud that we are proved to be an influential part of the UK catering and hospitality industry."
The Cateys annual awards ceremony is a celebration of the finest people and brands in UK hospitality. It showcases innovative brands and trail-blazing people from across hotels, restaurants, foodservice, pubs and bars. Alongside Matthew White, other winners included 72-year old chef Shaun Hill who was presented with the lifetime achievement award, Vacherin's Phil Roker, who won the foodservice caterer award and the special award honoured Ken McCulloch from Dakota.
White adds, "TUCO is a membership organisation made up of circa 186 higher and further education institutions across the country. Our procurement frameworks help achieve best value for public sector catering, not only in education but also for NHS trusts, local authorities, care homes, academies and charities. We provide learning and development via our TUCO Academy for our members who employ circa 33,000 members of hospitality staff at various stages of their careers within the sector.
The esteemed Cateys is one of the top awards to win in this industry and so to be honoured with this great award will help our business grow and develop for the future."
On Thursday 4th April 2019, Matthew White was announced the winner of the Non-Executive Director award for the Institute of Directors (IoD), North West & Isle of Man, Director of the Year Awards 2019. Following this, White has now been shortlisted for the IoD awards UK finals. The winner will be revealed on Friday 18th October 2019 at The Brewery in London. The IoD awards is a celebration of director's leadership, talent, success and achievement. The event aims to highlight the very best of UK business leaders.