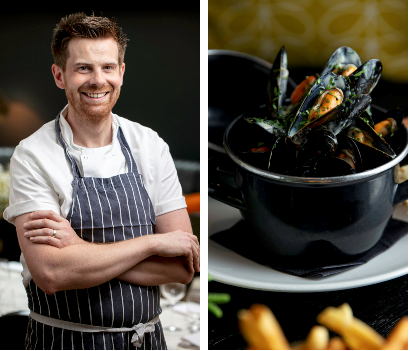 Arnold Ivey has been appointed as Head Chef at Avenue, London. With a flair for British cuisine, extensive experience in the food industry, coupled with creating highly regarded culinary creations, Ivey will re-position Avenue's current offering moving into a more seasonal British focused menu.
Ivey has enjoyed a proactive and illustrious career, working in the kitchens of other noteworthy D&D restaurants. Arnold Ivey first began his cooking career at iconic King's Road establishment, Bluebird Chelsea for two years, before moving onto the classically French-style restaurant, Orrery in Marylebone, which at the time held 1 Michelin star, to work under hospitality greats: Chris Galvin and André Garret.
Ivey arrived at Paternoster Chop House in 2004, working as a sous chef where he advanced his skills based on his trusted involvement in menu development using the best of British seasonal produce. After a nine-year stint, which saw Ivey make respected changes to the restaurant's dishes, Ivey briefly became Head Chef at Kensington Place before its closure.
With Ivey now at the reins at Avenue, the St James's restaurant will undergo a number of exciting changes. Avenue will move to a menu largely focused on seasonal British cuisine with an addition of seafood and fish dishes. Calling upon his learnings at Kensington Place, Ivey will bring with him several hero dishes from his former workplace. Trusted favourites include the sharing Dover sole with brown butter, lemon and capers, whole seabass off the bone, mussels, fish and chips, yellowfin tuna tartare with cucumber, apple and seeded crackers, Severn & Wye smoked salmon, served alongside soda bread, capers shallots and dill cream, and the famous lobster roll with Mary Rose sauce and fries available on the weekend brunch menu. The new additions will compliment the original restaurant classics including the Avenue Cheeseburger and Classic Chicken Caesar Salad that will remain staples on the menu.
Arnold Ivey brings with him years of experience to the force at Avenue, where he will continue to re-invent the wheel when it comes to British cooking, as well as maintaining the high standards and quality the restaurant has become known for.
Avenue, 7-9, St James's St, St. James's, London SW1A 1EE