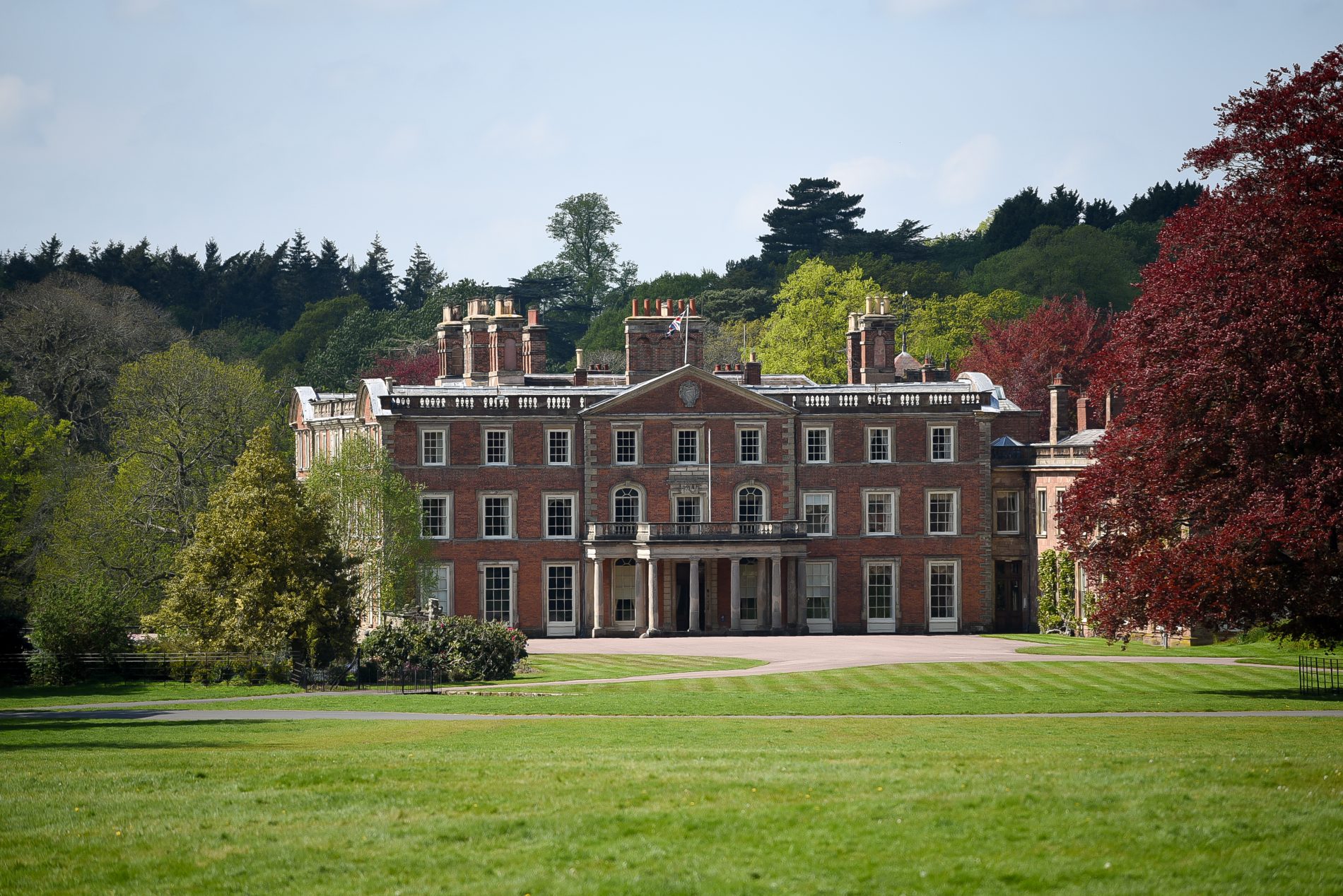 British caterer and restauranteur Searcys has been appointed as the official caterer at Weston Park, a historic stately home in Shropshire, set amongst 1,000 acres of landscaped parkland. Searcys involvement marks a new chapter for the 17th century house and grounds. The UK's first ever events catering company will bring 172 years of hospitality expertise to the extraordinary heritage of Weston Park estate, showcasing their legacy while striking the perfect balance with modern luxury.
The former ancestral home of the Earls of Bradford, Weston Park has a rich history, and has played host to British royalty, aristocracy and political leaders throughout the centuries. The medieval deer park, which still remains today, was mentioned in the Domesday Book. The third Earl of Bradford was Master of the Horse to Queen Victoria, a prestigious position within royal circles. Throughout the centuries, the family have gathered an internationally important art collection dating back to the Civil War and Restoration era.
Surrounded by 1,000 acres of stunning Capability Brown Parkland, Weston Park is a stately home, events venue, visitor attraction and luxury get away, all rolled into one. At certain times of the year guests are invited to share the estate with a wide variety of events that take place in and around the Parkland.
From June 2019, Searcys becomes the official caterer of this historic home. Drawing on the expertise of the UK's oldest catering company, Weston Park's new and seasonal culinary offering will include the launch of The Granary Brasserie and Bakery at Weston Park.
Additionally, Searcys will create bespoke hampers and chef's packages for the charming holiday cottages across the estate, as well as developing food and drink menus for private and corporate markets. This diverse offering will include away days, weekend stays, supper clubs, and that most quintessential of English customs; afternoon tea.
Matt Thomas, MD of Searcys, comments: "We are honoured to be invited to become part of  the Weston Park estate. This is an incredible opportunity to partner with a landmark British location that shares our commitment to provenance and sustainability. We are looking forward to providing the highest level of service in these wonderful surroundings, to help create memorable experiences together for our customers."
Colin Sweeney, CEO of the Weston Park Foundation, comments: "I am very much looking forward to working with the team at Searcys. We have a shared heritage, passion and vision in delivering exceptional food and service to our broad customer base whether it be a celebration in the House or Sunday Lunch in The Granary."
The Granary Brasserie and Bakery at Weston Park
A popular local dining destination, The Granary Grill, located in the restored 1767 Great Barn on the estate, will be refreshed with a new name, look and a market-style Brasserie menu. Celebrating the best of British produce with locally sourced ingredients and an emphasis on English Sparkling Wine, the revamped Granary Brasserie by Searcys is set to be the region's destination for special occasions, celebratory events and the weekly night out.
Drawing inspiration from both the history of the 1767 Granary itself and from John Searcy, a young pastry chef who went on to create the country's first catering company in 1837, the Bakery will feature a simple and seasonal menu of British fare. Highlights include Searcys' award-winning coffees and a range of freshly baked bread, homemade sandwiches and wholesome cakes. Throughout the day, enjoy savoury and sweet tarts, pastries and yoghurt pots, cakes, brioches and afternoon tea bakes.  The team will create a Weston bakery signature, which will join John Searcy's original Bakewell tart, one of the oldest puddings in England.
In keeping with Searcys' sustainability pledges, all tea and coffee is Fairtrade or Direct Impact sourced, with the bespoke coffee beans coming from family-run farms in Peru and Columbia. John Searcy was renowned for his delicious bakes and wonderful hospitality, and the bakery aims to continue his legacy, 172 years later.  
The Granary Brasserie and Bakery at Weston Park is open to the public all year round.
Private Occasions, Weddings Conferences and Events
The world-famous 18th-century landscape gardener Lancelot 'Capability' Brown was renowned for his ability to transform unpromising countryside into beautiful parks that seemed to be only the work of Dame Nature. Weston Park is a prime example of his work, with classical architecture and its own on-site Parish Church of St Andrews. For weddings and celebrations of all descriptions, Weston Park is an unequalled location that will create memories to last a lifetime.
The stately home features 28 bedrooms, making an ideal location for private house parties, weddings, corporate events and celebrations of all descriptions. With its tranquil location, and easy access to major train stations and airports, guests can enjoy exclusive use of the house, alongside five-star service from Searcys dedicated culinary and front of house team.
Weston Park Holiday Cottages
The Weston Park estate also has a number of exquisite holiday lets within the grounds, which are well suited to families, wedding parties or corporate stays alike. As the estate's official caterer, Searcys will design special packages to enhance the experience available within the holiday lets.  Guests staying in these cottages will be greeted with special hampers, arrival meal packages, bespoke chef's dinners in their cottage or ingredient box deliveries.