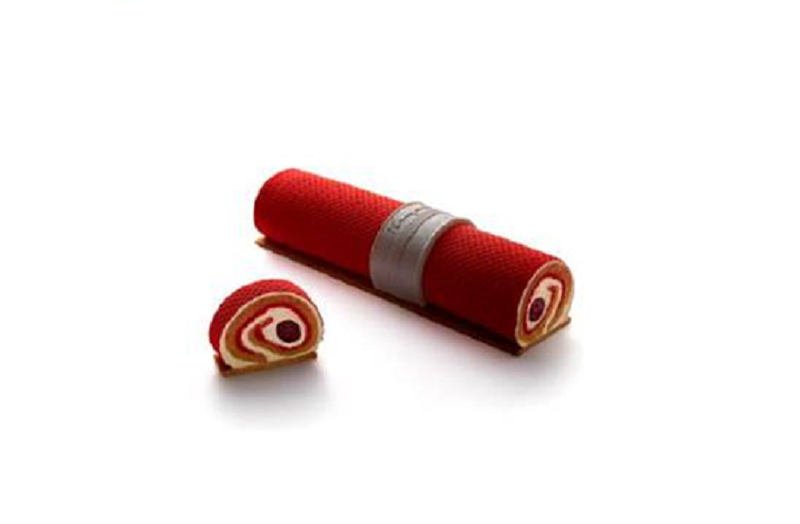 The three Michelin-starred Chef, Pierre Gagnaire has recently been named as the best Chef in the World. The voting for this award was done by Pierre's peers. Pierre Gagnaire has recently presented his latest festive creation with the reveal of a limited edition Yule log. The gourmet Yule log has been inspired by the appearance of a rolled serviette and is a reinvention of a classic festive dish. This exceptional dessert has been created with the colours of the famous Parisian brasserie and reflects the chef's devotion to the French lifestyle.
The traditional and timeless Yule log has been given a modern twist by the three Michelin Starred Chef, with the finished creation described as elegant, delicious and suitable to be enjoyed by all ages. The chef wanted to make sure that customers of all ages could enjoy this innovative and festive coloured Yule Log while also been finished to the high standards that Pierre is renowned for.
The Yule log has been created with the softness of a traditional roulade that has been mixed with a smooth almond sponge that has been spiced with Vietnamese pepper to offer a deliciously unique flavour. The dessert also uses the delicate flavour notes of orange, lemon and ginger marmalade as well as cranberry compote. To finish off this spectacular festive sweet treat, the log is finely coated in mascarpone cream that elevates the Yule log even further, resulting in a gourmet and fruit-filled spectacular dessert. The chic red velvet and silver powder dusting the top adds even more finesse to this amazing dessert while adding a hint of glamour.
The Yule log will be exclusively available on the menu of the 6 Fouquets restaurants. These restaurants are located in Courchevel, Paris, La Baule, Cannes, Toulouse and Enghien-les-Bains. The amazing dessert is also available to reserve throughout the holiday season. The whole Yule log can serve between 8 and 10 people and costs 65€.