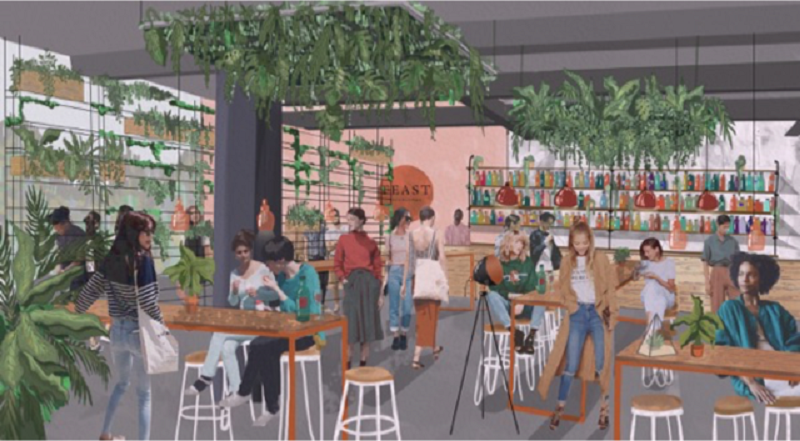 The former home of the BBC in White City has been completely transformed into a unique 5,000 sq. ft. drinking and dining destination. Feast the new Bar & Restaurant concept that is located at the former broadcaster home will open on the 29th November 2017.
Feast Bar & Kitchen, is the brand new grown up and developed version of the old street food and restaurant experience, Little Feast. This new location will also be a sister site to Feast Canteen, which is located in Hammersmith. The new bar and restaurant will open on the Wednesday the 29th November 2017 and is expected to be a den of deliciousness with sharing tables and a rotating lineup to celebrate the most amazing independent eateries in the capital.
Feast will have communal seating for 300 diners and will also have space for DJs to offer live entertainment. This amazing new space is expected to become a hybrid restaurant and bar for those in West London to enjoy. The first series of six month residencies expected at Feast are Del 47, the Mexican taco dudes as well as Hackney comfort food experts Morty & Bob's These companies will be creating bespoke all day menus especially for Feast and will include hearty Mexican sandwiches and juicy tacos created by the amazing team at Del47 and delicious grilled cheese sandwiches and wholesome salads from Morty & Bobs.
The new den of deliciousness in the old home of the BBC will offer food for those wanting meat, veggie, vegan or free-from meals all packed full of delicious flavour from street food inspired experts. Feast will be open from Monday to Friday and will be a hotspot for a solo weekday lunch or having dinner with that special someone, friends or family. The bar will also offer post-work drinks for large groups and get-togethers for any occasion. For those wanting to walk in and enjoy what is on offer are welcome to do so and there will also be bookable space for groups of four or more with no deposit needed.
Offering a modern, contemporary interior of lush greenery contrasted against gritty granite and timber for people to enjoy the menu. In summer, Feast will offer an additional 157 outdoor seats perfect for alfresco drinking and dining.