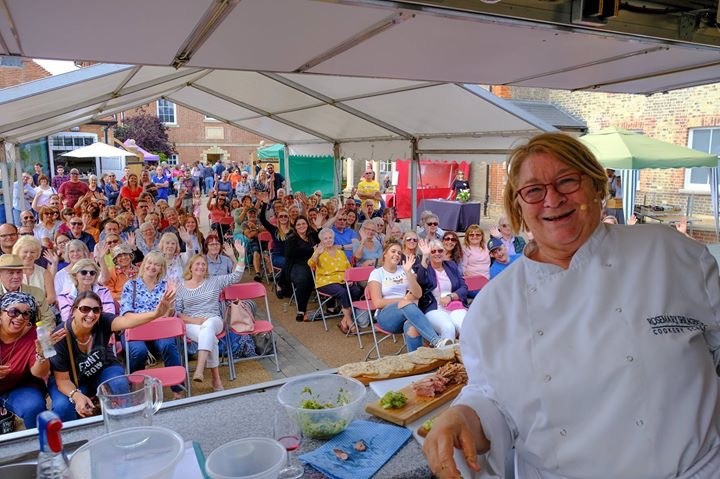 Newmarket town centre in Suffolk is set to be transformed into a foodie wonderland during the weekend of 14th and 15th September as it celebrates the finest food and drink from across East Anglia with tasty food, delicious drinks, celebrity chef demonstrations, live music and family entertainment.

The Newmarket Food and Drink Festival, a much-loved free event that welcomes approximately 10,000 visitors from the region every year, takes place in the heart of Newmarket across Palace Street, Sun Lane and the site of the National Heritage Centre for Horseracing & Sporting Art at Palace House.

Topping the bill on the main stage, the setting for a range of demonstrations to teach audiences new skills and offer inspiration in the kitchen, is celebrity chef and TV presenter Rosemary Shrager, and Tristan Welch a regular on BBC 1's Saturday Kitchen and Chef Director at Parker's Tavern in Cambridge. Wine tipster Helen Nicklin, a wine and spirits writer, wine consultant, TV presenter and judge for several international wine awards also makes an appearance. Further celebrity chefs are set to be announced in the coming weeks.

Commenting on her return to Newmarket, Rosemary Shrager said: "I'm delighted to be returning to the Newmarket Food and Drink Festival again this year. It's such a wonderful event and a joy to be involved with. I had so much fun at last year's festival!"

Regional chefs include Sci Daniels, Senior Sous from Bedford Lodge Hotel & Spa in Newmarket; Chris Martin, chef lecturer from Suffolk New College; and Mark Elvin, Head Chef at Barnham Boom Hotel in Norfolk.
Visitors can sample and buy from over 40 food and drink stalls from across the region, offering an array of locally grown produce, wines, spirits and beers, street food from around the world, vegan foods, and artisan grocery products. This year's stalls include Archangel Distillery's handcrafted gin and WhataHoot gin from Norfolk, Giffords Hall Vineyard from Suffolk, multi-award-winning Brockleby's Pies, Ely Fudge Company, The Handmade Doughnut Company, The Norfolk Cheese Company, and the multi-award-winning Three Counties Field Kitchen – a husband and wife team who use produce from Cambridgeshire, Lincolnshire and Norfolk – amongst many more. It truly is a regional Festival that caters to all tastes.

In addition to the food and drink stalls, a variety of exhibitors are selling bespoke cookery utensils and equipment, crockery and other cooking paraphernalia. Visitors can also enjoy the alfresco dining area, a selection of bars selling prosecco, cocktails or beers – including Gentleman Jim's mobile bar, a finalist in the Cambridge News Food & Drink Awards 2017, and Suffolk's Finest Horsebox prosecco bar, The Fizzy Fillies – a perfect fit for Newmarket!

The live music stage hosts a sterling line-up of artists and bands performing across a range of genres, including The Cracklin' Griffins who have been pouring out the party music to thirsty punters from their almost bottomless barrel of Pogues and traditional Irish folk songs and tunes. Meanwhile, children can delight in a range of entertainment, including face painting, hair braiding, and garden games.

Speaking ahead of this year's Newmarket Food and Drink Festival, Chairman, Noel Byrne, commented: "The East of England boasts some fantastic talent and our aim is to celebrate and showcase both the existing and emerging stars, from the producers and growers of local food, to the chefs and musicians. Every year, we welcome thousands of people to Newmarket to enjoy what promises to be a fun-packed weekend for everyone. We look forward to doing the same this year, which will be our biggest and best yet."

The Festival is supported by Newmarket Racecourses and the National Heritage Centre for Horseracing and Sporting Art. Sponsors for the event include Corney and Barrow, Newmarket Town Council and G's Fresh. The Festival also proudly raises money for the local charities supported by the Newmarket Open Weekend, which takes place on the weekend of 21st – 22nd September. More details below.

The Newmarket Food and Drink Festival opens each day at 11am and finish at 6pm on Saturday and 5pm on Sunday.
Keep up to date with the Festival on social media via Facebook: @nktfoodanddrink and Instagram: @nktfoodanddrink