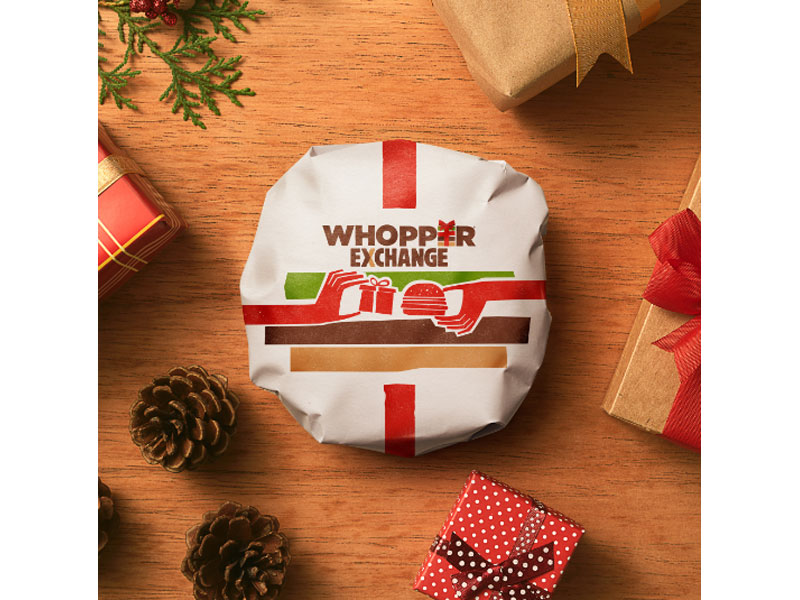 Everyone has experienced that moment during Christmas when opening a gift, only to quickly wish it was something else entirely. This Boxing Day, BURGER KING® restaurants are offering a WHOPPER® sandwich in exchange for an unwanted gift. Who says miracles don't exist?
All guests need to do is head down to the BURGER KING® restaurant located at Leicester
Square in London between 10am and 6pm during Boxing Day on 26th December to swap their unwanted present for a flame-grilled WHOPPER® sandwich. The exchange will be taking place across the globe in select US and Brazil restaurants as well.
If you are unable to make it to the restaurant on 26th December, don't worry. The first fans to post a picture on social media with their questionable gifts with #WhopperExchange will get a gift card to redeem a WHOPPER® sandwich at their local restaurant.
"At BURGER KING® restaurants, we are always looking for ways to surprise our fans, no matter if they were good or naughty," says Renato Rossi, Chief Marketing Officer for BURGER KING® UK. "The WHOPPER® Exchange will offer our guests the chance to basically get a flame-grilled gift in exchange for an unwanted one. Because this holiday season, we want everyone to receive something they will love."
BURGER KING® restaurants will donate all gifts to charity, because someone's unwanted gift can be someone else's treasure.
In the UK, exchanges will be limited to 500 gifts accepted at the BURGER KING® Restaurant, Leicester Square in London. Acceptability of the item to be determined by BURGER KING® Restaurant personnel in their sole discretion. Restrictions apply. See participating restaurant for details. TM & © 2015 Burger King Corporation. All rights reserved.