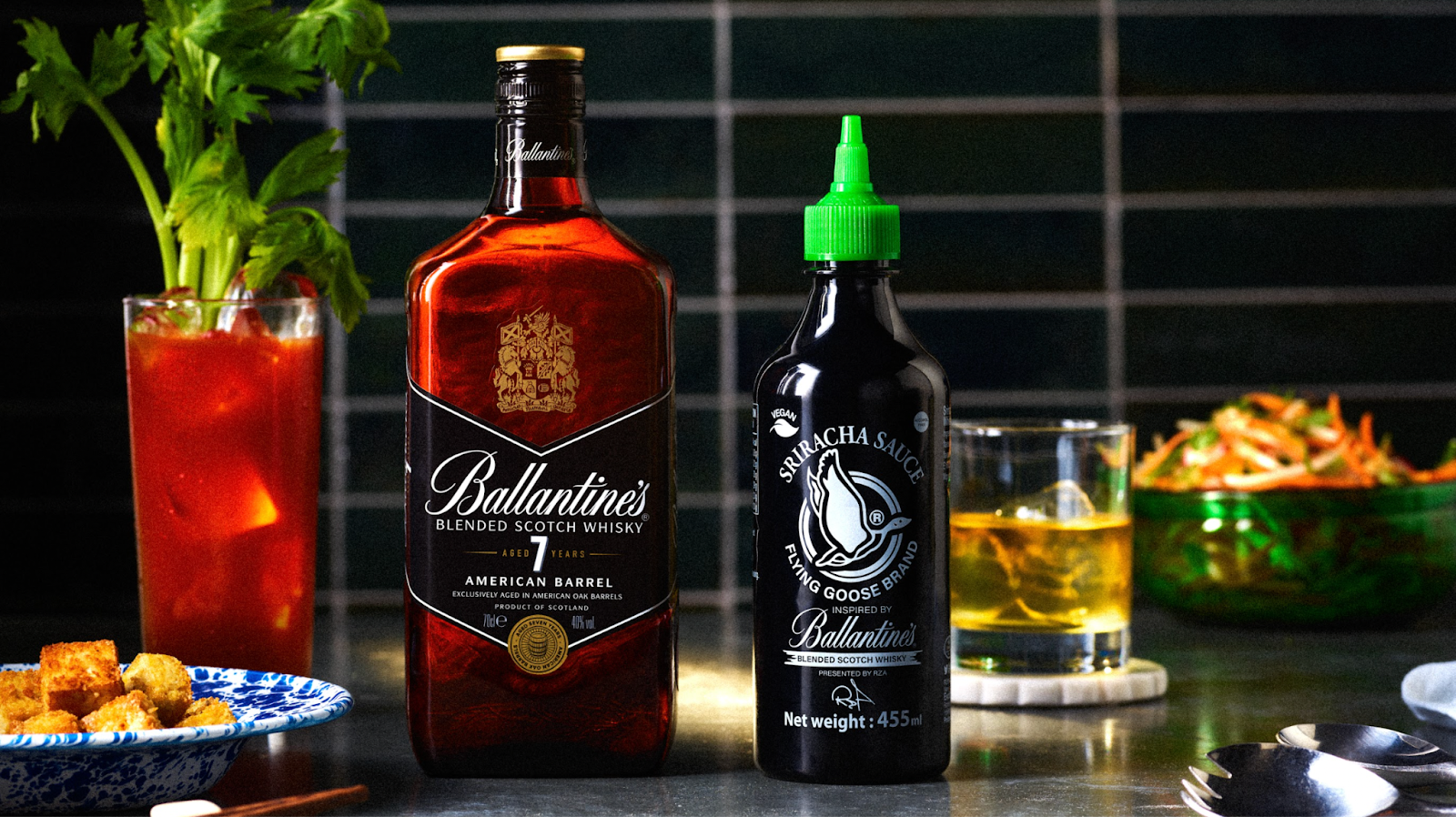 For the final drop in their partnership, Ballantine's Scotch whisky and RZA spice things up with a mouth-tingling hot sauce, created with Flying Goose.
The limited-edition Ballantine's x Flying Goose sriracha sauce presented by RZA will be available to purchase from Sous Chef priced at RRP £4.99.
To celebrate the launch, there will be a limited number of bottles available on Uber Eats for fans to get their hands on for free when they order from participating ramen restaurants in London.
 To uncover RZA's very own secret creamy and spicy ramen recipe, as well as exclusive Ballantine's sriracha cocktail recipes , head here
14th November, London, UK: Wu-Tang Clan frontman, RZA, and Ballantine's, the world's second-largest Scotch whisky*, have joined forces to launch a tongue-tingling, Ballantine's-inspired hot sauce, made in collaboration with Flying Goose, the home of the original sriracha chilli sauce.
The partnership between the pair, which has so far seen the launch of a bespoke Crosley record player and speaker, and a fashion collaboration with Japanese streetwear brand NEIGHBORHOOD, is all about celebrating doing things your own way and going against the grain. RZA is now bringing the Scotch whisky and cult hot sauce, Flying Goose, together to create an unexpected condiment inspired by his passion for Asian food and culture, showing there's really no wrong way to fuse your favourite flavours.
To create the hot sauce, Flying Goose took inspiration from Ballantine's 7 American Barrel – a blended Scotch whisky aged for a minimum of seven years – resulting in a unique alcohol-free condiment reminiscent of the unmistakable taste of the Scotch, whilst keeping the heat of the brand's iconic sriracha. The final product is a taste sensation of soft red apples, intermingled with ripe pear and creamy caramel, combined to create a bold flavoured sriracha sauce that will tantalise your taste buds.
Whether you're a seasoned chef who regularly cooks up a storm in the kitchen or looking for ways to upgrade your takeaway, the limited edition vegan hot sauce is the perfect spicy sidekick to transform any dish. Mix it with a creamy tofu ramen like RZA's secret speciality, use it as a dip for your favourite corn fritters or to spice up your fried chicken.
When asked about the partnership, RZA said: "I'm vegan and I like to get extra creative with how I make and cook food, experimenting with bold flavours, textures and ingredients. I'm bringing Ballantine's and Flying Goose together to break the mould of what incredible flavour should taste like, to bring something truly original, surprising and unexpected to the world. This condiment is a one-of-a-kind fusion, and I can't wait for everyone to try it on different recipes at home."
Paul-André Vacheron, Ballantine's Marketing Director at Chivas Brothers adds: "The final drop in our series with RZA is – quite literally – our hottest yet, blending the unexpected to create something truly against the norm. Much like the process of making whisky, we've gone to great lengths to ensure the blend and balance of flavours in this new Ballantine's-inspired hot sauce hit all the right notes. We look forward to seeing people get creative with their sriracha – because there's no wrong way to experiment with individual taste."
Jittiporn Jantarach, CEO of Flying Goose, says: "As a fan of Scotch whisky, I was delighted to have the opportunity to work with Ballantine's and RZA to blend our unique skills and create a limited-edition sriracha hot sauce that is unlike any other. Try it in your favourite recipes to discover distinct tasting notes of soft red apples, ripe pears and creamy caramel – all with a Scotch-inspired kick."
To get your hands on the limited-edition RZA Presents: Ballantine's x Flying Goose Sriracha Sauce, with an RRP of £4.99, visit Sous Chef and www.Ballantines.com/RZA.
Ballantine's has also partnered with Uber Eats to offer London-based fans a chance to snap up a bottle of the limited-edition spicy hot sauce. From 14th November, and for a limited time only, customers purchasing from five ramen restaurants** across London will receive a free bottle of the spicy condiment to celebrate its release.
For more information on Ballantine's partnership with RZA, and to be the first to hear about exclusive content and future drops, visit www.Ballantines.com/RZA or follow @Ballantines on Instagram.