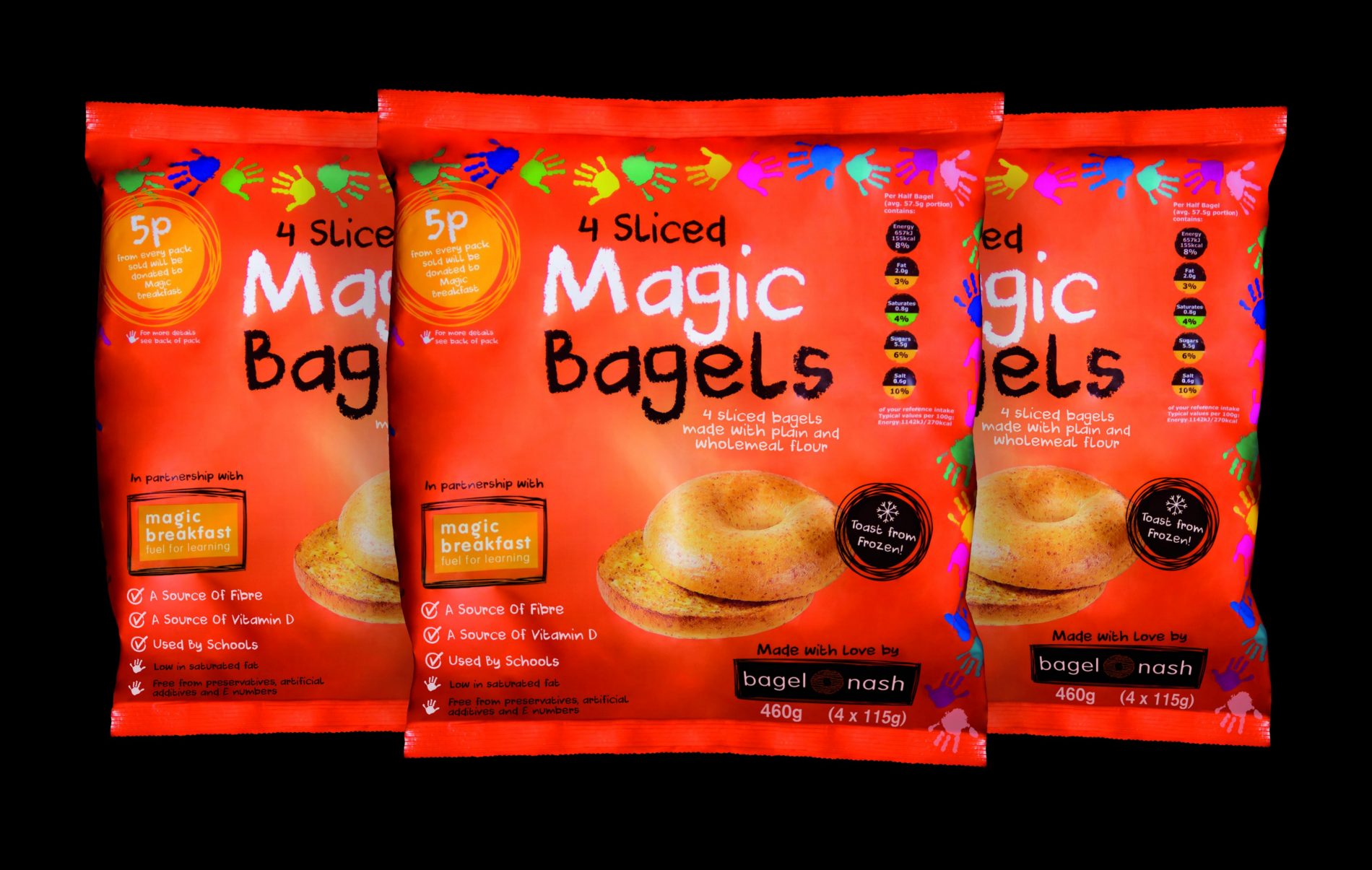 Yorkshire-based Bagel Nash has signed an exclusive retail deal which will see its special recipe Magic Bagels sold through 106 Iceland owned Food Warehouse stores.
Supplied to schools for nearly 10 years, it will be the first time that these frozen bagels will be available for sale to members of the public.
Developed to help fuel hungry school children, Magic Bagels are made from a mix of plain and wholemeal flour, are low in saturated fat and are a source of fibre and Vitamin D.
Five pence from every four-pack sold through the stores will be donated to Magic Breakfast*, the charity which helps provide healthy breakfasts to children who arrive at school too hungry to learn. The aim is to raise £50,000.
According to the charity, as many as 300,000 UK children a day have the opportunity to eat the unique Magic Bagels for breakfast at school. A recent survey of Magic Breakfast partner schools showed 70% of them believe child hunger, generally, has increased in their school community in the past year.
Sara Micklethwaite, who runs Leeds-based Bagel Nash with husband Andy commented: "As many as 1.8 million school age children in the UK are at risk of hunger in the morning – and a hungry child cannot concentrate. As the school year and our new partnership gathers pace, we're delighted to be able to further support a charity that has been close to our hearts for nearly a decade.
"For 30p, Magic Breakfast can give a child a healthy breakfast and wrap-around support at school. To understand the impact of what the charity is doing, you only have to speak to teachers and parents."
Established for more than 30 years, Bagel Nash opened its first store in Moortown, Leeds in 1987. It has its own wholesale bagel factory and now supplies retailers and food service operators around the world.
Richard Walker, md of Food Warehouse said: "We understand that providing children with the correct nutrients and sustenance every day is essential, and Magic Bagels offer parents this peace of mind. The pack of four represents great value for a high-quality product that can really help children to get the most out of their day.
"The success of the bagels in schools has been phenomenal and we were keen to make them more widely available to our customers. The five pence donation from every pack sold will hugely benefit school breakfast clubs up and down the country, helping to deliver much needed food to children at an important time of the day."
Magic Bagels are easy to prepare and can be toasted straight from the freezer, as well as enjoyed with both sweet and savoury fillings.
They are available at Food Warehouse from September and retail at £1.00 (four-pack).
For further information about Bagel Nash and its products, please visit http://bagelnash.com.
*Magic Breakfast is a registered charity aiming to end hunger as a barrier to education in UK schools through the provision of healthy breakfasts to vulnerable children. Charity number 1102510 in England and SC048202 in Scotland.