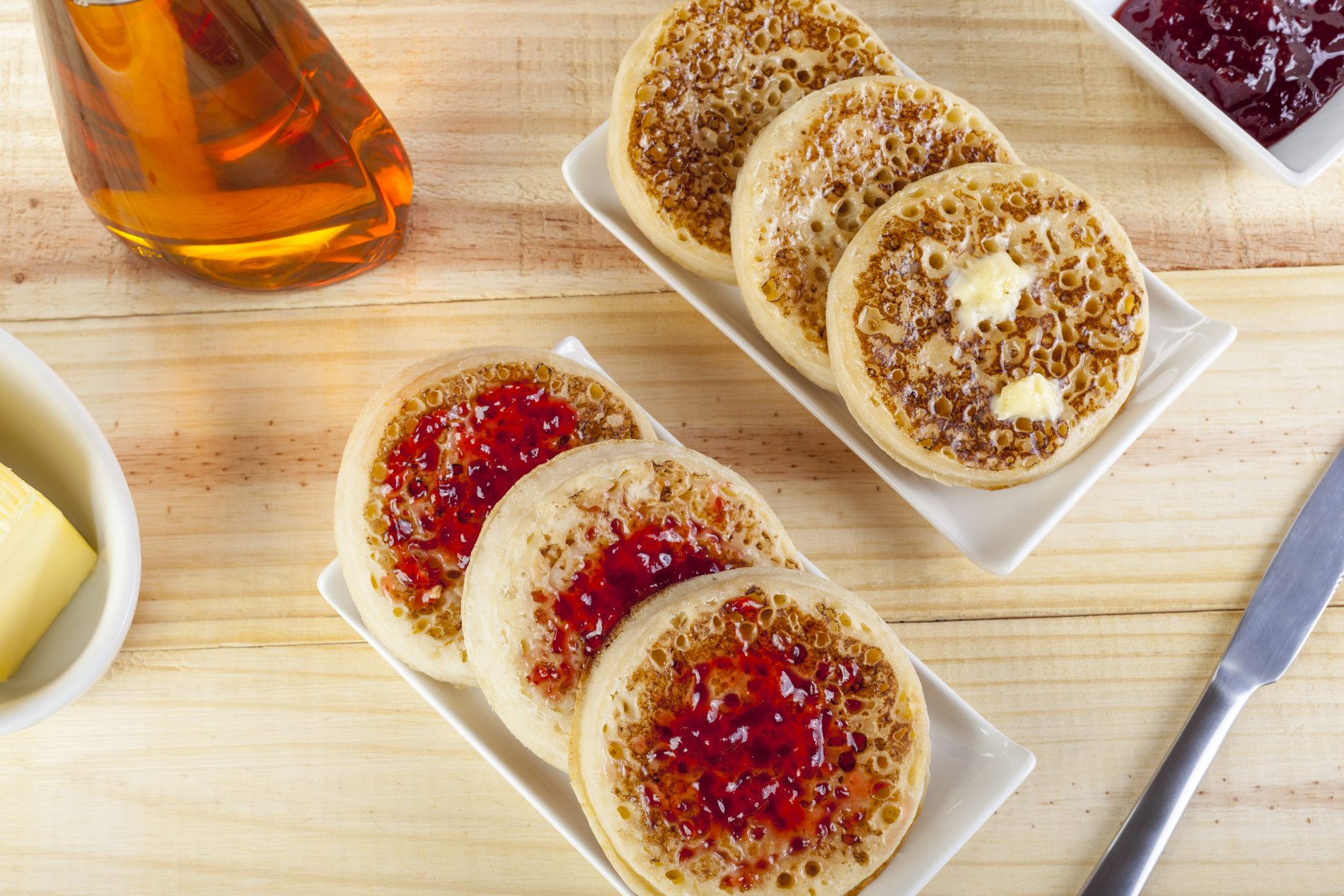 Crumpets, a quintessentially British snack (Welsh to be specific); reminiscent of chilly afternoons and most typically, teatime. A couple of toasted crumpets probably does not hit the spot as a main meal, but as a snack there are a raft of possibilities. What to spread them with is a debate of its own. Should they be sweet, savoury, simple or fancy, surely anything goes? Here, the new 'wonky bread' online rescue service, Earth & Wheat, which includes ultra-fresh wonky crumpets in its planet friendly subscription box, takes a look at both sides of this argument.
THE SWEET
Jam / Fruit Curd
Once buttered, whilst we would suggest less is more, you cannot go wrong with your favourite jam or curd here, or marmalade if your tastes are more… Paddington. As a sweet snack a buttered crumpet with strawberry jam cannot fail to hit the spot.
Chocolate Spread
If you are fortunate enough to find some left in the jar, chocolate spread, especially the well-known Hazelnut variety, is a popular crumpet accompaniment. It might be more so for the under 12's but nevertheless, using your wonky crumpets as an excuse for a chocolatey, nutty boost is understandable. You do lose the crispy texture of a toasted crumpet under these thicker spreads though, so if you are a true fan of the humble crumpet, you may wish to steer away from these.
Honey
For many, crumpets are a snack that is enjoyed as a weekend 'brunch' time offering as well as the traditional teatime slot. If you have never tried them with honey then frankly, do. Better still, take a tip from chef Marcus Wareing and melt a few tablespoons of honey, cool a little and then blend with around half a block of butter, so you have home-made honey butter. This makes the flavour combination work perfectly on the textured crumpet, in a similar way to the oh-so-popular salted caramel… everything.
Fruit & Yoghurt
If you are devoted to crumpets as a sweet snack, but dare not to develop a love for them with jam or syrup, then enjoy your crumpets toasted, served with a dollop of Greek yoghurt and some warmed berries with a pinch of mixed spice. Top off with just a drizzle of honey for a swift snack that adds a bit of protein and one of your five a day in just 10 minutes of effort. Thank the Hairy Bikers for the inspiration.
Syrup
Their fluffy texture, mouth-watering way of soaking up buttery, sweet deliciousness suggests that just like pancakes, crumpets will favour the addition of a touch of syrup. Whether you like golden or maple, spoon on a little of your favourite and enjoy. If you are in the camp of sweet toppings, it does not get sweeter than this.
THE SAVOURY
If you do NOT favour sweet things and are a sucker for a savoury snack, then what are some options?
Butter
Some would say the original is best. If this is your topping of choice the best advice is do not hold back. Save a thin veil of butter for your sandwiches, a buttered crumpet is not that at all unless the butter is soaking through its holes to the plate beneath.
Marmite
As we all know, this is not for everyone, but love it or hate it, on a crumpet it works, provided the butter is there already. So, if you are in the camp of crumpets as a savoury snack and you are not a hater, then be our guest.
Cheese
As a savoury snack, a crumpet, warm and buttered with a good couple of slices of mature cheddar is a good call. Melt the cheese and you have got a rather greasy mess going on, but each to their own. Just have the cutlery handy.
Crispy Bacon and Eggs
As a snack this may be a little much on effort; with protein and a good variety of textures, a runny yolk to moisten the crumpet, this is definitely worth the wait.
'Crumpizza'
We get it, when you do not have pizza, anything that can hit the spot as a stand in is a good fallback plan. A quick sweep of tomato puree, a sprinkle of grated cheese and a smattering of oregano and you are good to go. Just know that if you have any teens in your house, any crumpets will soon be demolished before you have had a chance to decide what you will have on yours.