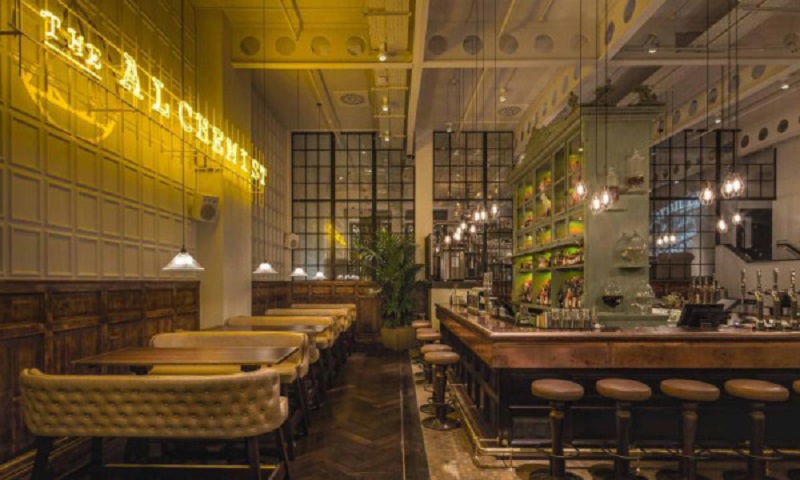 The popular premium cocktail bar and restaurant, The Alchemist, has announced that they have secured three new UK sites. The chain has announced that they have secured three new venues in Bristol, Cardiff and Nottingham. This news has been released after the brand successfully opened their 10th site in Chester last month.
All of the newly secured sites will be refurbished in order to fit in with the trademark Alchemist copper covered design, with warm decor and unique artworks covering the new sites. The Alchemist in Nottingham will be located at the former Hard Rock Café on King Street. The Nottingham site is expected to open in December of this year after £1.6 million investment. The new location will be spread over two floors and cover an impressive 6,500 sq. ft. of space.
Next to open will be the newly acquired Cardiff site, expected to launch in March 2018. The Alchemist in Cardiff will occupy the old NatWest Bank found on St Mary Street. This will be the first Welsh venue for The Alchemist chain and will also receive a £1.6 million investment to convert the 5,900 sq. ft. site.
The Chain will open in Bristol on Queen's Road and will require £1.3 million in order to refurbish the space and turn give it the trademark Alchemist features. The 5,200 sq. ft. Bristol location is expected to open in April 2018.
Securing these three new locations means that the company will have 15 different locations, once they are all open. The news of these three new sites also builds on an amazing year so far for the company as they have managed to open their 10th site and have two more openings planned in Media City and Oxford later in the year. The restaurant and innovative cocktail makers have also made it onto The Sunday Times Best Companies to Work For list which is a massive achievement for such a rapidly expanding company.