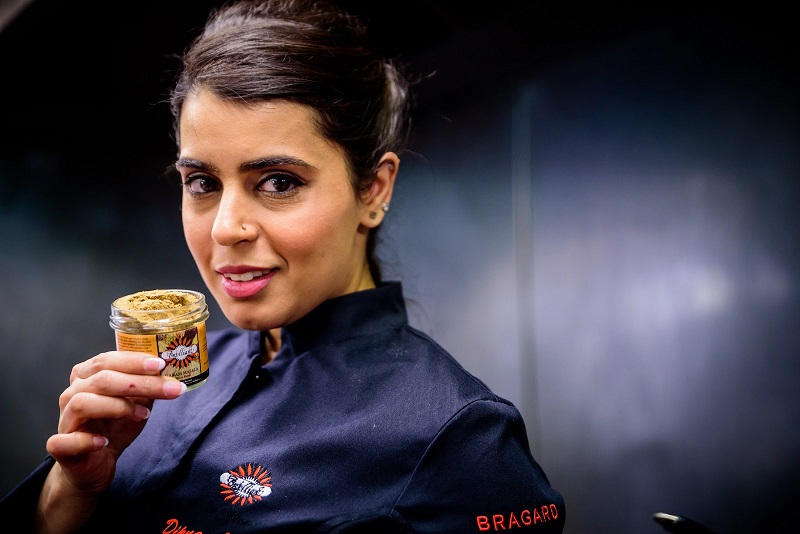 The celebrity chef Dipna Anand has opened a new restaurant called Dip in Brilliant on Fulham Broadway in London. Set to make a real mark on the local dining scene, the restaurant will serve a delicious menu of Punjabi dishes in a vibrant and casual dining environment.
The decision to open Dip in Brilliant follows the success of Dipna's family's restaurant in Southall, London, which won the 'Best Indian Restaurant' title in the Channel 4 series 'Ramsay's Best Restaurant'.
Dip in Brilliant is a 70 cover restaurant and it is perfect for those who enjoy a quick 30 minutes meal, as well as for those who prefer a longer, more relaxed dining experience. The menu stays true to traditional Punjabi flavours through authentic dishes, with food presented in a fresh, contemporary and creative way. Diners will be eating from a traditional thali and some of the dishes they can choose from include tandoori seekh kebabs, alu tikki, methi chicken, vegetable jalfrezi and gulab jamun infused ice-cream, created by Chef Dipna herself.
"Dip in Brilliant has been my Brilliant baby for some time and it's incredibly exciting to finally bring a little piece of our Southall heritage to West London. Dishes on the menu incorporate some of my family's own recipes, passed down from generation to generation, and I'm looking forward to showcasing the very best of Punjabi cuisine to a new audience," commented Chef Dipna Anand on the opening.
Dipna Anand comes from a family of chefs that serve authentic Indian cuisine in their multi award winning Brilliant restaurant in Southall. Her family's rich culinary history is reflected in Dipna's cooking and in her passion for sharing the very best Indian food. This passion for the Indian cuisine and for cooking has been showcased in her live cookery show, Dip in Kitchen, her cookery school in Southall, and her collaboration with the Compass group, a leading food and catering service.