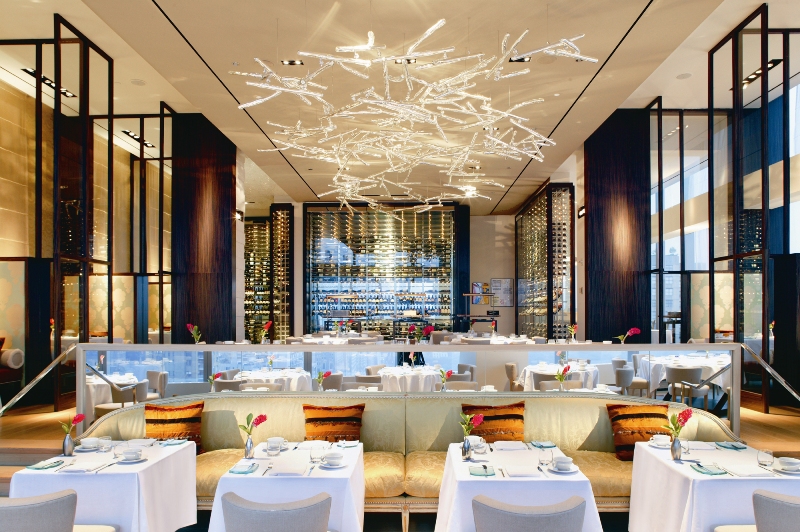 Bookatable has awarded Aqua Shard with the title of 'Best Restaurant in London 2018' during the Bookatable's Diner Awards, which are in its fourth year. The Awards has also revealed the results of the Top 50 Best restaurants in London, based on customer reviews and ratings left on the company's website.
Bookatable's Diner Awards 2018 analysed over 150,000 verified diner reviews and ratings from the Bookatable.co.uk website and took into consideration several factors, including number of reviews submitted, star ratings and review content to determine the final list of winners. All reviews on the Bookatable.co.uk site are left by verified Bookatable diners, because only people who have dined at the restaurant can leave a review.
Apart from the Top 50 restaurants, there are other winners across 13 different categories, including Best Indian, Best British, Best Italian, Best Restaurant for Breakfast, Best Al Fresco, Best Restaurant for Afternoon Tea, Best Steak, Best Child-Friendly, Best Seafood, Best French and Best European.
"At Bookatable, we love great restaurants and are committed to offering our diners a wide choice of places to eat; from high street favourites and leading pubs to once-in-a-lifetime Michelin-starred restaurants," said Michel Cassius, CEO of Bookatable.
"This year, we are pleased to add more award categories to reflect and celebrate the diversity that our diners are looking for. What makes the Bookatable Diner Awards special for the restaurant industry is that they are granted by the restaurant diners themselves, people who have enjoyed their dining experience and are keen to recommend the restaurants they love. We all know how much trusted reviews matter to everyone," he added.
The full list of the winners at the Awards can be found below.
Top 50 Best Restaurants in London:
1. Aqua Shard (WINNER)
2. OXO Tower Restaurant
3. Joe Allen – Covent Garden
4. Hutong at The Shard
5. Kaspar's at The Savoy
6. Covent Garden Fire & Stone
7. Boulevard Brasserie
8. Palm Court Brasserie
9. Winter Garden at The Landmark London Hotel
10. Planet Hollywood London
11. The Library at Marriott County Hall
12. Tredwells from Marcus Wareing
13. The Georgian Restaurant at Harrods
14. Oblix East
15. The Grill at The Dorchester
16. The Yacht London
17. Heliot Steak House
18. Mele e Pere
19. Tuttons
20. Roux at The Landau
21. Galvin La Chapelle
22. Homage Restaurant at The Waldorf Hilton
23. Hakkasan – Hanway Place
24. Mad Hatter's Afternoon Tea at Sanderson
25. Searcys at the Gherkin
26. Asia de Cuba
27. M Threadneedle St
28. OXBO Bankside
29. The Goring Dining Room
30. Moro
31. Afternoon Tea at the Park Room
32. Benares
33. Cantina Laredo
34. The Terrace Grill and Bar at Le Méridien Piccadilly
35. Pescatori – Charlotte Street
36. R.S. Hispaniola
37. Kitchen W8
38. Marco Pierre White – London Steakhouse Co. – City
39. STK London
40. The Northall at Corinthia Hotel London
41. Caxton Grill
42. Roast
43. Ten Room at Hotel Café Royal
44. Crazy Bear – Fitzrovia
45. Cigalon
46. Palm Court at The Langham, London
47. M Victoria Street
48. Petrichor at The Cavendish London
49. Afternoon Tea at The Ritz
50. Fera at Claridge's
Top 10 Best Indian Restaurants in London
1. Benares
2. The Cinnamon Club
3. Cinnamon Kitchen
4. Indian Essence
5. Tamasha
6. Gymkhana
7. The Quilon Restaurant
8. Trishna
9. Cinnamon Bazaar
10. Mint Leaf
Top 10 Best British Restaurants in London
1. OXO Tower Brasserie (WINNER)
2. Aqua Shard
3. The Ritz Restaurant – London
4. The Grill at The Dorchester
5. Athenaeum
6. OXO Tower Restaurant
7. Ten Room at Hotel Café Royal
8. Afternoon Tea at The Library Lounge
9. R.S. Hispaniola Restaurant and Bar
10. Tuttons
Top 10 Best Italian Restaurants in London
1. Mele e Pere (WINNER)
2. Massimo Restaurant
3. The Oval Restaurant at The Wellesley
4. Amaranto – Four Seasons London
5. Rotorino
6. A Cena
7. Theo Randall at the InterContinental
8. Caffe Caldesi
9. Bottega Prelibato
10. Getti – Jermyn Street
Top 10 Best Restaurants for Breakfast in London
1. Dalloway Terrace (WINNER)
2. Aqua Shard
3. OXO Tower Brasserie
4. Joe Allen – Covent Garden
5. Balans Soho Society – Soho
6. Greenberry Café
7. Tom's Kitchen – Chelsea
8. Winter Garden at The Landmark London Hotel
9. Tuttons
10. London Cat Village
11. Top 10 Best Alfresco Restaurants in London
Top 10 Best Restaurants for Al Fresco in London
1. OXO Tower Brasserie (WINNER)
2. OXO Tower Restaurant
3. Tuttons
4. Dalloway Terrace
5. 'Smiths' of Smithfield, Top Floor
6. OXO Tower Bar
7. Mad Hatter's Afternoon Tea at Sanderson
8. R.S. Hispaniola
9. The Yacht London
10. Tom's Kitchen – St Katharine Docks
Top 10 Best Restaurants for Afternoon Tea in London
1. Mad Hatter's Afternoon Tea at Sanderson (WINNER)
2. Afternoon Tea at the Park Room
3. Afternoon Tea at The Ritz
4. Charlie and the Chocolate Factory Afternoon Tea
5. Afternoon Tea at The Waldorf Hilton
6. Afternoon Tea at The Goring
7. GONG – Shangri-La Hotel, The Shard
8. sketch – Gallery – Afternoon Tea
9. The English Tea Room at Brown's Hotel
10. Afternoon Tea at The Capital
Top 10 Best Steak Restaurants in London
1. Heliot Steak House (WINNER)
2. Marco Pierre White – London Steakhouse Co. – City
3. STK London
4. Marco Pierre White – London Steakhouse Co. – Chelsea
5. Oblix West
6. Hawksmoor Seven Dials
7. Hawksmoor Air Street
8. Hawksmoor Knightsbridge
9. Barbecoa – St Paul's
10. The Meat Co Westfield
Top 10 Best Child-Friendly Restaurants in London
1. Planet Hollywood London (WINNER)
2. Covent Garden Fire & Stone
3. OXO Tower Brasserie
4. Joe Allen – Covent Garden
5. OXO Tower Restaurant
6. Mad Hatter's Afternoon Tea at Sanderson
7. London Cat Village
8. The Georgian Restaurant at Harrods
9. Charlie and the Chocolate Factory Afternoon Tea
10. Tom's Kitchen – Chelsea
Top 10 Best Seafood Restaurants in London
1. Kaspar's Seafood Bar and Grill (WINNER)
2. Pescatori – Charlotte Street
3. Fishworks – Swallow Street
4. Outlaw's at The Capital
5. Fishworks – Marylebone
6. One-O-One
7. Angler
8. The Summerhouse
9. Wright Brothers Soho
10. Gow's Restaurant
Top 10 Best French Restaurants in London
1. Roux at The Landau (WINNER)
2. Galvin La Chapelle
3. Cigalon
4. Galvin at Windows
5. Céleste at The Lanesborough
6. Rivea London
7. Galvin Bistrot de Luxe
8. Bleeding Heart Restaurant
9. Alain Ducasse at The Dorchester
10. Pétrus – Gordon Ramsay Restaurants
Top 10 Best European Restaurants in London
1. Boulevard Brasserie (WINNER)
2. Palm Court Brasserie
3. Winter Garden at The Landmark London Hotel
4. Oblix East
5. Homage Restaurant at The Waldorf Hilton
6. Caxton Grill
7. Palm Court at The Langham, London
8. Quaglino's
9. Menier Chocolate Factory
10. Melody at St Paul's