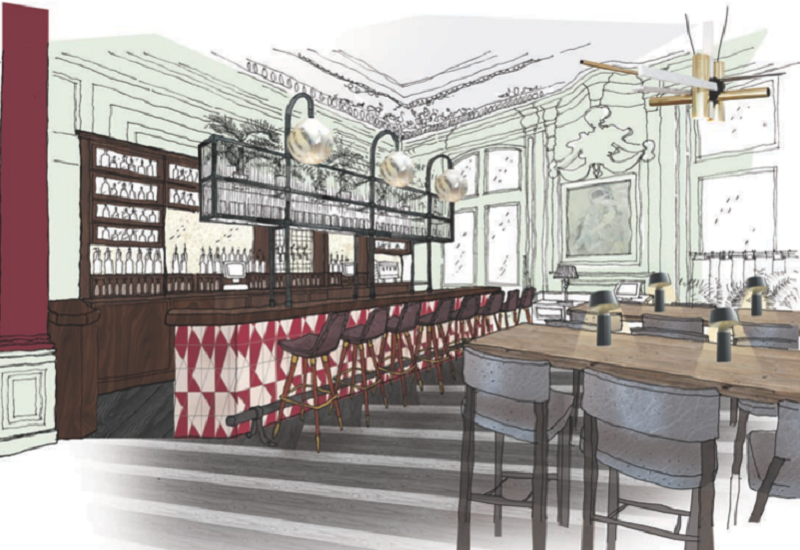 Rake's, a day to night eating and drinking destination, as well as an escape from the city, will open its doors on Friday, the 1st of June 2018, next to Liverpool Street Station in central London. The café will feature a lounge area, a private dining room and a pergola adorned main space.
Rake's will be open 7 days a week, offering simple and comforting food alongside fantastic coffee and a specially crafted cocktail menu of modern and classic mixtures. Contemporary art illustrating the new 'Rake's Progress' adorns the walls, depicting the personality of a modern day Rake – individualistic in outlook and encyclopaedic in taste.
Three relaxed spaces will be part of Rake's new concept: The Front Room, where the main café bar will be located and home to varying DJs from Thursday to Saturday nights, The Parlour, which is the lounge area, a place to relax and escape the city and No.3, a secret room that can be closed off and booked for private parties.
Rake's menu reflects the eclectic culinary tastes and different cultures found in today's London, combining stories of travel, trade and culture. During the morning commute, takeaway breakfast will be available alongside freshly brewed coffee. Breakfast and brunch favourites from the menu include the Rake's Benedict – a combination of Cured Ham, Avocado Hollandaise and Poached Burford Browns and the Walnut Waffle served with Lemon Crème Fraiche, Berry Compote and Rose Honey Syrup.
For later on in the day, guests can enjoy sharing plates, from £6, such as Burrata with Smashed Peas, Mint and Lemon, Broccoli & Chickpea Fritters, Corn Fed Chicken and Chorizo Croquettes and Sriracha Sesame Cauliflower Wings with Cashew Sauce amongst others. Larger plates include Butter Milk Chicken Burger, Tagliatelle with Devon Crab, Prawn and Chilli Oil and the Rake's rainbow salad bowl.