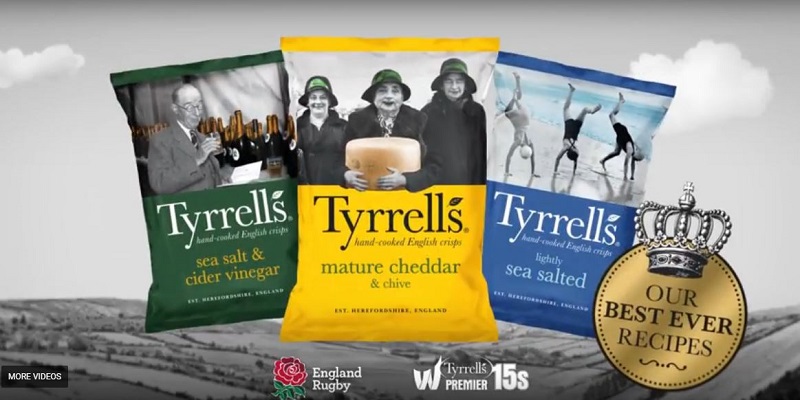 Tyrrells Hand-Cooked English Potato Crisps has launched its new Absurdly Good advert that will showcase its Best Ever Recipes. It will be aired on TV and Video on Demand from the 5th of March and it is part of the brand's investment in above the line advertising. Tyrrells invested £2 million in the advert and it will be on air from March to May 2018.
At the centre of the advert are Tyrrells' most popular flavours: Lightly Salted, Sea Salt & Cider Vinegar, and Mature Cheddar & Chive; and it focuses on how the company hunts down the finest ingredients to make its crisps taste so Absurdly Good. The renowned crisp packet characters and Tyrrells' signature style and humour are featuring throughout the clip.
"We are thrilled to launch this new creative campaign to celebrate our Best Ever Recipe. The ad shows the passion that we have for hunting out the finest quality ingredients for our unique, delicious tasting crisps. We're always working to improve our recipes, and this advert is to celebrate and ultimately communicate that we now have our best ever recipes. Of course, the creative style maintains our unique personality, tone and humour," said Adam Draper, Marketing Director at Tyrrells Potato Crisps.
The crisps' range comes in small batches from locally grown, seasonal varieties of potatoes at Tyrrells Court Farm in Herefordshire. They are hand cooked and seasoned to perfection with the finest, specially selected ingredients, possessing in a unique curl, crunch, and taste.
Tyrrells is based on a farm in the picturesque Herefordshire countryside and since its creation in 2002, it has grown to become one of the UK's best-loved premium snacking brands. The Tyrrells portfolio consists of award-winning hand cooked potato crisps, vegetable crisps, and Poshcorn with 69 Gold Great Taste awards, more than any other premium crisp producer.