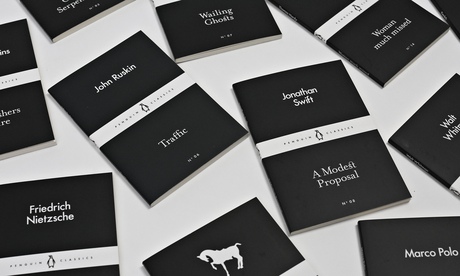 Penguin's celebrated Little Black Classics – now in a beautifully designed, limited edition boxset
From gothic fiction to Haiku, Norse sagas to Greek fables, pioneering essays to gem-like short stories, the 80 complete miniature books in the Little Black Classics series highlight the huge range and diversity of Penguin Classics. They take readers around the world and through the centuries, offering a taste of authors such as Chekhov, Dante, Homer and Whitman – with one reviewer describing the experience as "like being let loose in a sweet shop". This highly collectible boxset contains all 80 Little Black Classics, ordered by number in a monochrome case embellished with an individual quote from the books. It's a dream gift for literature lovers: a complete world of books in one box.
This extraordinarily successful series has now sold over 950,000 books in the UK alone. The Little Black Classics made their way into the retailer Tesco, and the series' most popular book, The Communist Manifesto, reached the Sunday Times bestseller list. Journalists were quick to report on how the Little Black Classics reflected our general reading habits, with four of the top ten most popular titles non-fiction works, and the top-selling authors ranging from Nietzsche to Tolstoy to Austen.
Praise for the Little Black Classics
"Contemplating the books en masse is like being let loose in a sweet shop. Austerely desirable, but also playful in their way … Buying the lot doesn't seem like a crazy extravagance." Nick Lezard, Guardian
"This current treasure trove of miniature gems sparkles" The National, UAE
"Tesco should prepare for some truly unexpected items in the bagging area … In an election year, these books prove that readers – and voters – are thinking outside the political box" Charlotte Runcie, Telegraph
"Whoever claimed that 'you can't teach an old dog new tricks' evidently has much to learn from the publishing house, which appears to be getting progressively more exciting with each passing year." It's Nice That