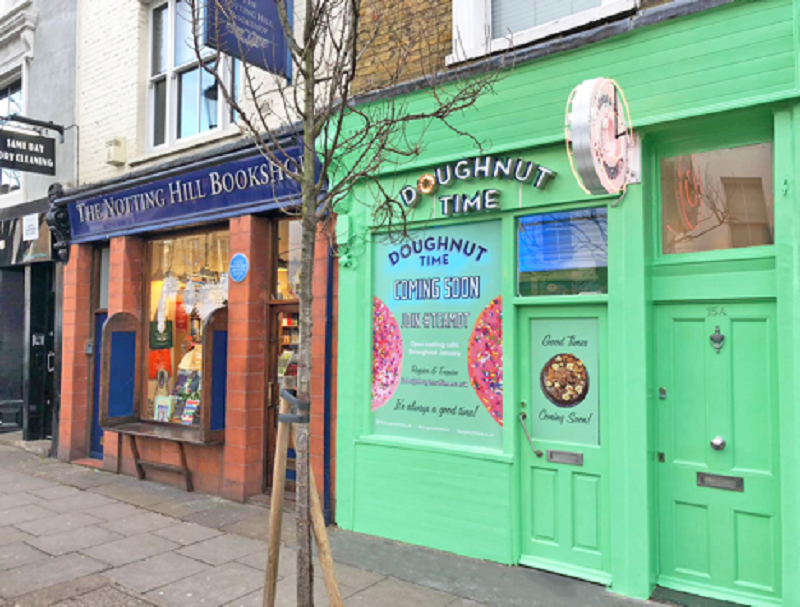 Doughnut Time will be opening its third store on Saturday, the 27th of January in Notting Hill. The customers will have two hours of free donuts, including an exclusive Notting Hill donut, from 12pm-2pm on the day of the launching.
"Following our successful openings in Central and East London, we can't believe it's already time to hit West London! So far our doughnuts have conquered Londoners' hearts, and we're looking forward to sprinkling a bit of fun on this iconic area of Notting Hill," said Damian Griffiths, the founder of Doughnut Time.
The shop is right next door to the famous Notting Hill Bookshop, where the characters of Julia Robert and Hugh Grant first met in the British romantic comedy, Notting Hill. To celebrate their location, the bakers from Doughnut Time have partnered up with the Great British Bake Off 2017 Finalist, Steven Carter-Bailey, and created a limited-edition brownie-packet donut named after Julia Robert's character, 'Anna Scott'.
The creation is made up of dark chocolate glaze with milk chocolate drizzle and curls, and topped with a daisy flower. Inspired by one of the film's most popular scenes, the last brownie contest, Londoners have the chance to taste this chocolate delight for free during 12pm-2pm on the 27th of January.
For the future, the Doughnut Time has planned to open a Doughnut Academy above its Shaftesbury Avenue store, offering customers the opportunity to showcase their artistic and culinary skills as they decorate and customise their own donut creations. Additionally, the expansion will continue to grow, as the business is set to open new kiosks in London City Airport and other London locations.
Doughnut Time is a specialist in creating hand-dipped donuts in small batches. They are carefully designed to make customers fall in love, with flavours ranging from conventional (original glazed, salted caramel, jam and cream) right through to the unique (maple bacon, hibiscus and Nerds).