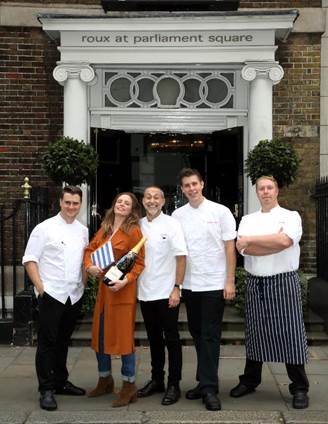 The renowned Taittinger Prix Culinaire International by Champagne Taittinger is entering its 52nd year of running and, for the fourth year, Michel Roux Jr will be the UK Presidential Judge heading up the panel of 12 chefs from leading Michelin Star Restaurants. The longest running competition in Europe is now open to chefs aged between 24 and 39 and with five years' experience to enter.
"Champagne Taittinger has always been fully committed to promoting and encouraging young, upcoming chefs. They are the future of highly skilled culinary talent and this competition is for them. Now in its 52nd year it is the oldest culinary competition of its kind. It is tough, but showcases the best.  I am so happy that Michel Roux Jr will continue as UK Presidential judge again this year," said Vitalie Taittinger, Marketing Director at Champagne Taittinger.
This year's theme is 'A Tribute to Paul Bocuse' and competitors will have to submit a recipe of classic cuisine. The main dish will be a whole Bresse chicken, with self-serve home-style stuffing and poulette sauce with a side of mushroom ravioli and self-serve chicken's liver in a consommé.  Ingredients are chosen from a supplied list and dishes are prepared on the day. Participants will also prepare a second dish based on a theme provided by Michel Roux Jr one week before the competition.
Seven countries will be hosting their own national finals, with the UK final taking place at Roux at Parliament Square on the 15th of September 2018. The winner of the UK competition will be chosen by the panel of judges and announced by Michel Roux Jr and Champagne Taittinger's Marketing Director Vitalie Taittinger at a reception following the cook off.  All UK finalists will be given a Jeroboam of Champagne Taittinger and the UK winner will receive €2,400, as well as a trophy and a place in the International Final which will be held in Paris on the 19th of November 2018. The winner of the International Final will receive €10,000; the runner up €4,800 and the 3rd place contestant, €2,500, with all winning a trophy to acknowledge their success.
The closing date for entries is the 24th of August 2018.