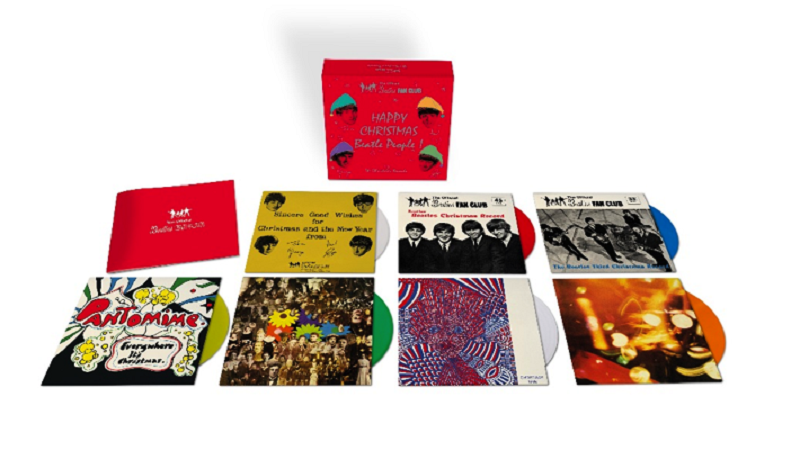 An exciting new product is being released this Christmas that would be the perfect gift for The Beatles fans. Apple Corps Ltd./ Capitol/UMe have announced that they are wrapping up new, global Beatles releases just in time for the festive holiday season.
The Beatles had an annual holiday tradition of recording jolly Christmas messages for their fan club members and it was a vital part of their relationship with their most die-hard fans each Christmas. These most ardent of followers have were affectionately called Beatle People. The holiday recordings by the world-famous band took place between 1963 to 1969. These holiday recordings were originally pressed on to flexi discs and the mailed to fan club members each December. These messages were never released outside the fan club members. Until now.
The Beatles' seven holiday messages have been newly pressed onto a rainbow collection of seven-inch coloured vinyl singles for The Christmas Records box set. This box set will be released worldwide on December the 15th. The limited edition collection presents each vinyl single with their original flexi disc sleeve artwork, accompanied by a 16-page booklet with recording notes and reproductions of the fan club's National Newsletters which were also mailed to members along with the holiday flexi discs.
This amazing limited edition collection is available to pre-order online. On the 15th December there will also be a Deluxe Anniversary Edition of The Beatles 1967 masterwork of Sgt. Pepper's Lonely Hearts Club Band which will also be debuting worldwide in high definition digital audio. This Deluxe Anniversary Edition includes the album's acclaimed 2017 stereo mix as well as 18 additional track. Among these tracks include complete alternate takes for the 13 songs on the groundbreaking album which have been newly mixed in stereo. The expanded edition that is being released in time for Christmas will also include the 2017 stereo mix and instrumental version of Penny Lane and a 2015 stereo mix and two complete alternate takes for Strawberry Fields Forever.