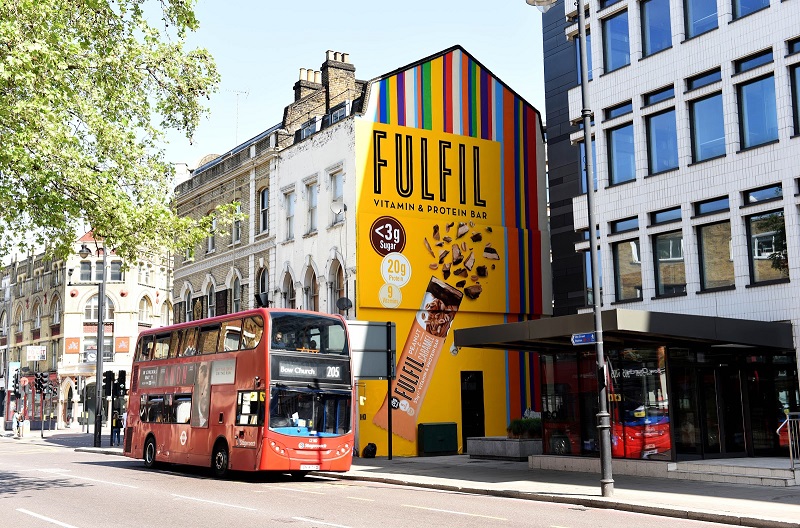 Fulfil, the UK's fastest selling vitamin & protein bar, has started a marketing campaign to educate London's health conscious consumers on the benefits and great taste of the bars. The campaign kicked off this week and it includes a JCDecaux media-first, digital out of home, sampling, festivals, experiential and social media activity.
"Our bars have all the benefits of high protein and low sugar but with the great taste of traditional sweet treats, and they are set to become the UK's number one healthy snacking brand," said Brian O'Sullivan, chief executive at Fulfil Nutrition. "Protein is essential for everyone, not just bodybuilders and hard-core athletes. Fulfil's great taste makes the category much more accessible to wider audiences, both male and female."
To mark the beginning of the London campaign, a 94-square metre mural, designed by Nightingale Austen Design and installed by Global Street Art Agency was revealed on Great Eastern Street in Shoreditch.
"It is important for manufacturers to educate people on how much protein they should consume, as well as its benefits. Most consumers are aware of the need to increase protein in their diets but the majority, especially those who are less gym-focused, are unaware of the appropriate levels to be consuming," explained Brian.
"With one in three people trying to increase their protein intake**, there is a growing appetite and further education can only help to accelerate the participation in the category. The days of having to choose between 'unhealthy and tasty' versus 'healthy and bland' are behind us – there's a new future, and it's packed with goodness, functionality and flavour," he added.
On Tuesday, the 12th of June, an experiential outdoor hub will open at Boxpark, in the heart of Shoreditch, lasting until the 16th of June. The outside space will host Fulfil's Festival of Fitness, including HIIT workouts and classes led by influential trainers.
Fulfil will also be showcased at Balance Festival at the Old Truman Brewery between the 11th and 13th of May, a go-to destination for those embracing a healthy lifestyle.