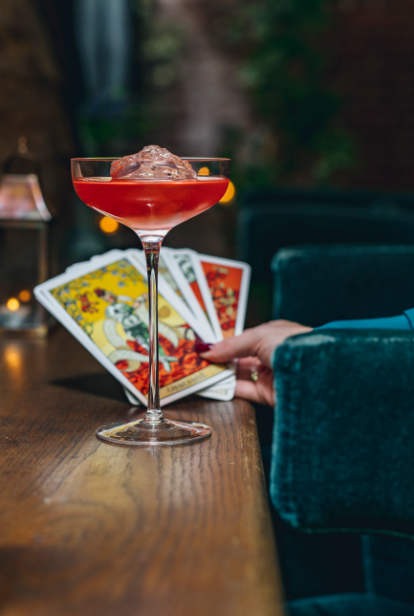 The Bloomsbury Club Bar invites guests to place their fate in the hands of the Cocktail Diviner this September with the launch of a unique and completely immersive new concept. With an air of divination, telepathy and all things mystical, the bar will offer drinkers an insight into the hedonistic and debaucherous lives of The Bloomsbury Set. Exploring decades past, The Bloomsbury Club Bar's innovative new cocktails have been specifically designed to expose and remedy your deepest desires.
The infamous Bloomsbury Set rejected Victorian ideas of religion and explored new sources of spiritual meaning – through their art and writing, their kinships, and belief in an inter-connected universe. In the aftermath of the First World War, audiences gasped in packed-out theatres at the extraordinary illusions of magicians and mind-readers, while drawing rooms across London hosted intimate gatherings to communicate with the dead, and those desperate for answers darted down back streets to have their fates spelt out on upturned cards.
The Bloomsbury Club Bar's new Cocktail Diviner manifests this era of prophecy and premonition; it knows how you are feeling. Inspired by a special deck of Tarot cards, designed in 1910 by the bohemian occultist Pamela 'Pixie' Colman Smith, the bar's new set of 14 cocktails correspond to 14 states of mind or being. Upon arrival at the bar, guests must allow the Diviner to guide their emotions, exposing their secret yearnings and allowing it to provide a perfect tonic to their state of mind.
Heading up the bar is UK World Class Finalist Scott Gavin. Speaking of his new menu, Gavin says: "I can't wait for this new menu to finally launch. It is such a cool concept and I think it's just what London has been waiting for. This menu has been a complete pleasure to devise. Come and play with us at The Bloomsbury Club from September, who knows where you might end up."
Guests at The Bloomsbury Club Bar will enjoy a truly immersive experience; one that is sure to evoke the debauched antics of The Bloomsbury Set whether you like it or not:
– If Melancholy has descended upon you, a sip of Persian Mist (Luksusowa Vodka, Tesseron Cognac Composition, East India Cream Sherry, Indonesian Coffee, Persian Damask Blossom, Golden Double Cream – £14) will lift your heavy spirits
– For a night of Seduction, the ingredients in Forbidden Fruit (The Botanist Gin, Crab Apple Cordial, Beurre Noisette, Green Chartreuse, Bramley & Braeburn Apples, Apple Oil – £14) will transform idle desire into enduring love
– When you're feeling Mischievous, the inimitable flavours of Mad Monkey (Avion Plata Tequila, Peach Citric, Egg White, Chilli Tincture, Wasabi & Passion Fruit Dust – £14) promise to curb feelings of recklessness without losing exuberance
– For the Envious, Flaming Venom (Absolut Elyx Vodka, Wild Berries, Young Artichoke Leaves, Perrier-Joüet Grand Brut NV – £14) banishes resentment
Taking influence from the 1920's and 1930's, set against a backdrop of luxurious decadence, The Bloomsbury Club Bar menu celebrates the golden age of cocktails with a strong, seductive mix of forgotten classics and innovative new creations inspired by The Bloomsbury Set's infamous members.
Set in the heart of London's Bloomsbury, The Bloomsbury Club Bar is a moody, seductive and atmospheric space. The bar is split into two areas: the main bar and the outer terrace bar. The inside is furnished with plush leather armchairs, atmospheric lighting and wall-to-wall bookshelves, the walls adorned with artwork and books synonymous with The Bloomsbury Set, whilst the secluded outside grotto terrace resembles a relaxed bohemian space. Booths line the exposed brickwork and a canvas of fairy lights cover the ceiling. Escape the hustle and bustle of the city and rediscover a different epoch in one of many dark corners.