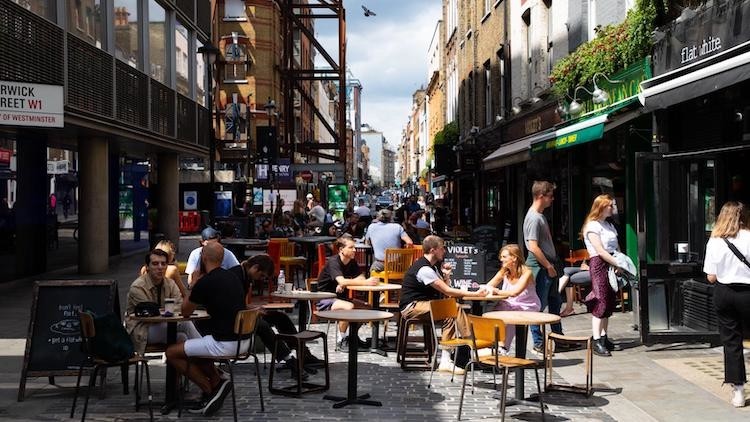 Following the incredibly successful Eat Out To Help Out Scheme, Soho operators have united for the month of September to offer their customers a free 'Soho Calling' cocktail designed by world class mixologist, Dré Masso, to help raise money for the area-wide alfresco dining initiative.
The Soho Summer Street Festival, pioneered by John James of Soho Estates has been a huge success with 90% of businesses re-opening in the pedestrianised zone, over 1000 jobs saved and the noticeable rebooting of Central London's hospitality sector. Most importantly it has brought the neighbourhood back to life. Soho has never seen such magical evenings. Despite this, the costs to keep the initiative going are a constant strain on the hospitality businesses in the area and the alfresco dining is under constant threat. Over £6,000 is needed weekly to cover security fees for the pedestrianisation, costs currently shared by operators.
This September, Soho businesses are turning to customers to help them save Soho and keep the beating heart of London's food and drink scene alive. They are asking loyal customers and Soho fans to kindly donate to the cause (via this link) and in return they will receive a world-class 'thank you' cocktail for free when dining at any of the participating venues on Monday to Wednesday. Masso's 'Soho Calling' creation, available to redeem from Monday 7th September, is a vibrantly refreshing cocktail with subtle botanical and floral notes, combining London's most iconic spirit, Beefeater, with Masso's homemade hibiscus syrup, topped with soda water and garnished with a sprig of mint.
Dré Masso is a London bartending legend and has been involved in the global cocktail scene for over 25 years, working at some of the world's most prestigious bars. Dré said of the initiative:
"I've designed this cocktail to help save Soho, which is still in trouble. I have worked and enjoyed Soho over the years and, essentially it is a 'thank you' cocktail if you are able to donate to the cause."
Participating restaurants include: SOLA, Hoppers, Lina Stories, Ceviche, Groucho, 40 Dean Street, French House, Zima, Rasa Sayang, Lobos Soho, Sanctum Hotel (Wild Heart Bar & Grill) , MAOZ, Suvlaki, Tonkotsu, Simmons, The Arts Club
Terms and conditions
Limit of one free cocktail per person, per donation
Must be having a sit down meal to qualify at participating restaurants
Free with proof of donation on site to Save Our Soho
Available Monday – Wednesday from 7th September at participating venues