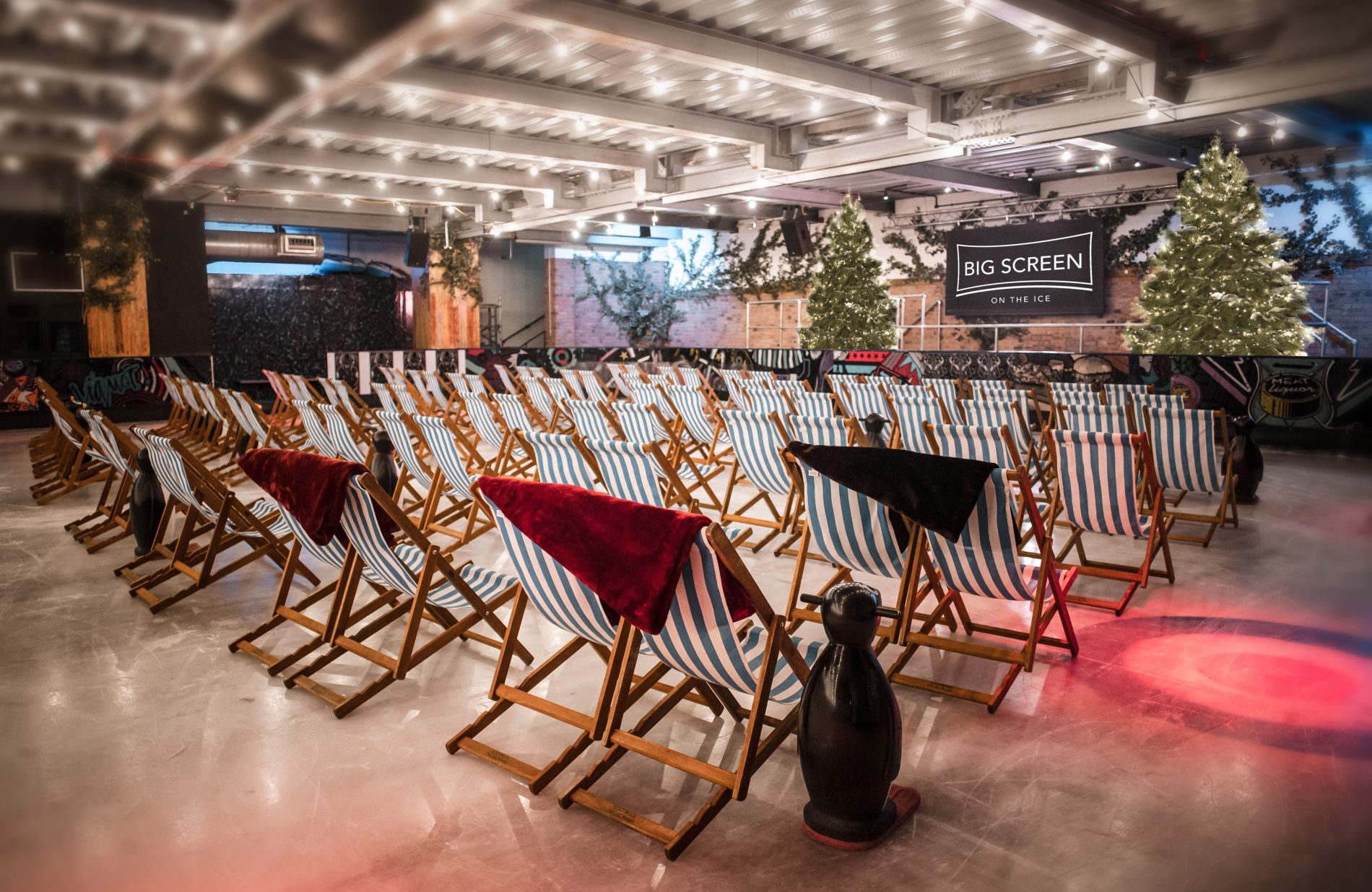 QUEENS Skate Dine Bowl, central London's only all-year-round ice rink is excited to announce the launch of their Christmas pop-up cinema experience on ice, brought to you by Big Screen, one of London's best loved screening event producers. Launching on Sunday 1st December, these uniquely festive film screenings will be sure to get even the grumpiest Grinch into the festive sprit.
With nine weekends of festive film fun, everyone will have the opportunity to see their favourite Christmas movies, either whilst lounging on candy striped deck-chairs, wrapped in cosy blankets, à la après-ski vibes, or on skates, enjoying all time classic movies, whilst twirling into the festive season. Enjoy a magical experience, whilst watching Holiday Season classics on the ice. Big Screen at QUEENS will offer Londoners the perfect festive weekend activity for families and friends alike, offering two screenings per-day at this novel indoor pop-up, complete with a super-sized LED screen on the ice.
Family Screenings: will start at 5pm on Saturday & Sunday afternoons, guests purchasing seated tickets are invited to enjoy the (ice hockey themed) SIN BIN café, over-looking the ice-rink before the film starts, where hot-chocolates and other winter warmers await.
Adult Screenings: will start at 8pm on Saturday & Sunday evenings, guests purchasing seated tickets are invited to enjoy the (ice hockey themed) SIN BIN, over-looking the ice-rink before, after and even during their film, where MEATliquor will be serving their irresistible cockle-warming cocktails. These perfect 'date night' screenings will feature multiple intervals for some much needed winter warmer drinks and snacks.
'Tis the season to enjoy this stellar line-up of the nation's Christmas classics including; Home Alone, Elf, the Holiday, Love Actually and many more favourites, each guaranteed to make these Big Screen On The ICE weekend pop-ups the best place to be this festive season. Guests can experience QUEENS's brand new state-of the art lighting, programmed to amplify and accent each movie perfectly, as well as on-skates servers bearing popcorn and treats.
The SIN BIN is London's only dedicated rink side bar and diner offering guests the perfect spot to refuel, recharge and relax. Guests can tuck into delicious dishes and Christmas cocktail concoctions from MEATliquor, or even take part in ten-pin bowling with pals in the 12 state-of-the-art bowling lanes at QUEENS.
With a multitude of activities for all, make it a festive evening to remember this holiday season. Be it with friends or family, everyone is invited to take to the ice for these wonderful winter movies.
Following Big Screen's unprecedented success of the Rugby final showing earlier this month at QUEENS, as well as this summer's event topped off by the supreme Wimbledon and Cricket World Cup Finals victories, the founders of Big Screen are delighted to curate an even more exciting offering this winter.
Quote from Rob Barry (Project Director at BSOTI):
"It is a pleasure to Partner with; QUEENS, a fellow leading brand in the entertainment sector for this much anticipated Festive Pop-Up campaign at this iconic London venue. Bringing together the community to enjoy these unique and immersive screening events, combining all-time festive classic films with ice skating and an on-ice experience.
Big Screen is hugely passionate about producing enriching novel events that incubate meaningful connections and real-life experiences, whilst challenging the status quo for passionate fans."
Screening Schedule: 5pm for Families // 8pm for Adults
1st December | Frozen // Love Actually
7th – 8th December | Elf // The Holiday
14th – 15th December | Muppets Christmas Carol // Home Alone 1
21st – 22nd December | Miracle on 34th Street // Notting Hill
28th – 29th December | Lion King // Die Hard
4th – 5th January | Up // Cool Runnings
11th – 12th January | Wall-E // Dirty Dancing
18th – 19th January | Finding Nemo // Bohemian Rhapsody
25th – 25th January | Toy Story // The Greatest Showman
*new movie titles might potentially be revised or added to subject to any extension of dates
Prices
Ice Skating + Film tickets. NO seating
From £11 kids + £2.50 skate hire (u12)
From £12 adults + £2.50 skate hire (over12)
Ice Skating + Film tickets. PLUS private seating
From £13 kids + £2.50 skate hire (u12)
From £16 adults + £2.50 skate hire (over12)